Adactio: Journal
https://adactio.com/journal/
The online journal of Jeremy Keith, an author and web developer living and working in Brighton, England.
https://adactio.com/journal/rss
---
The Technical Side of Design Systems by Brad Frost
Day two of An Event Apart San Francisco is finishing with a talk from Brad on design systems (so hot right now!):
You can have a killer style guide website, a great-looking Sketch library, and robust documentation, but if your design system isn't actually powering real software products, all that effort is for naught. At the heart of a successful design system is a collection of sturdy, robust front-end components that powers other applications' user interfaces. In this talk, Brad will cover all that's involved in establishing a technical architecture for your design system. He'll discuss front-end workshop environments, CSS architecture, implementing design tokens, popular libraries like React and Vue.js, deploying design systems, managing updates, and more. You'll come away knowing how to establish a rock-solid technical foundation for your design system.
I will attempt to liveblog the Frostmeister…
"Design system" is an unfortunate name …like "athlete's foot." You say it to someone and they think they know what you mean, but nothing could be further from the truth.
A design system is a set of rules enforced by culture, process and tooling that govern how your organization creates products.
A design system the story of how an organisation gets things done.
When Brad talks to companies, he asks "Have you got a design system?" They invariably say they do …and then point to a Sketch library. When the focus goes on the design side of the process, the production side can suffer. There's a gap between the comp and the live site. The heart and soul of a design system is a code library of reusable UI components.
Brad's going to talk through the life cycle of a project.
Sell
He begins with selling in a design system. That can start with an interface inventory. This surfaces visual differences. But even if you have, say, buttons that look the same, the underlying code might not be consistent. Each one of those buttons represents time and effort. A design system gives you a number of technical benefits:
Reduce technical debt—less frontend spaghetti code.
Faster production—less time coding common UI components and more time building real features.
Higher-quality production—bake in and enforce best practices.
Reduce QA efforts—centralise some QA tasks.
Potentially adopt new technologies faster—a design system can help make additional frameworks more managable.
Useful reference—an essential resource hub for development best practices.
Future-friendly foundation—modify, extend, and improve over time.
Once you've explained the benefits, it's time to kick off.
Kick off
Brad asks "What's yer tech stack?" There are often a lot of tech stacks. And you know what? Users don't care. What they see is one brand. That's the promise of a design system: a unified interface.
How do you make a design system deal with all the different tech stacks? You don't (at least, not yet). Start with a high priority project. Use that as a pilot project for the design system. Dan talks about these projects as being like television pilots that could blossom into a full season.
Plan
Where to build the design system? The tech stack under the surface is often an order of magnitude greater than the UI code—think of node modules, for example. That's why Brad advocates locking off that area and focusing on what he calls a frontend workshop environment. Think of the components as interactive comps. There are many tools for this frontend workshop environment: Pattern Lab, Storybook, Fractal, Basalt.
How are you going to code this? Brad gets frontend teams in a room together and they fight. Have you noticed that developers have opinions about things? Brad asks questions. What are your design principles? Do you use a CSS methodology? What tools do you use? Spaces or tabs? Then Brad gets them to create one component using the answers to those questions.
Guidelines are great but you need to enforce them. There are lots of tools to automate coding style.
Then there's CSS architecture. Apparently we write our styles in React now. Do you really want to tie your CSS to one environment like that?
You know what's really nice? A good ol' sturdy cacheable CSS file. It can come in like a fairy applying all the right styles regardless of tech stack.
Design and build
Brad likes to break things down using his atomic design vocabulary. He echoes what Mina said earlier:
Embrace the snowflakes.
The idea of a design system is not to build 100% of your UI entirely from components in the code library. The majority, sure. But it's unrealistic to expect everything to come from the design system.
When Brad puts pages together, he pulls in components from the code library but he also pulls in one-off snowflake components where needed.
The design system informs our product design. Our product design informs the design system.
—Jina
Brad has seen graveyards of design systems. But if you make a virtuous circle between the live code and the design system, the design system has a much better chance of not just surviving, but thriving.
So you go through those pilot projects, each one feeding more and more into the design system. Lather, rinse, repeat. The first one will be time consuming, but each subsequent project gets quicker and quicker as you start to get the return on investment. Velocity increases over time.
It's like tools for a home improvement project. The first thing you do is look at your current toolkit. If you don't have the tool you need, you invest in buying that new tool. Now that tool is part of your toolkit. Next time you need that tool, you don't have to go out and buy one. Your toolkit grows over time.
The design system code must be intuitive for developers using it. This gets into the whole world of API design. It's really important to get this right—naming things consistently and having predictable behaviour.
Mina talked about loose vs. strict design systems. Open vs. locked down. Make your components composable so they can adapt to future requirements.
You can bake best practices into your design system. You can make accessibility a requirement in the code.
Launch
What does it mean to "launch" a design system?
A design system isn't a project with an end, it's the origin story of a living and evolving product that'll serve other products.
—Nathan Curtis
There's a spectrum of integration—how integrated the design system is with the final output. The levels go from:
Least integrated: static.
Front-end reference code.
Most integrated: consumable compents.
Chris Coyier in The Great Divide talked about how wide the spectrum of front-end development is. Brad, for example, is very much at the front of the front end. Consumable UI components can create a bridge between the back of the front end and the front of the front end.
Consumable UI components need to be bundled, packaged, and published.
Maintain
Now we've entered a new mental space. We've gone from "Let's build a website" to "Let's maintain a product which other products use as a dependency." You need to start thinking about things like semantic versioning. A version number is a promise.
A 1.0.0 designation comes with commitment. Freewheeling days of unstable early foundations are behind you.
—Nathan Curtis
What do you do when a new tech stack comes along? How does your design system serve the new hotness. It gets worse: you get products that aren't even web based—iOS, Android, etc.
That's where design tokens come in. You can define your design language in a platform-agnostic way.
Summary
This is hard.
Your design system must live in the technologies your products use.
Look at your product roadmaps for design system pilot project opportunities.
Establish code conventions and use tooling and process to enforce them.
Build your design system and pilot project UI screens in a frontend workshop environment.
Bake best practices into reusable components & make them as rigid or flexible as you need them to be.
Use semantic versioning to manage ongoing design system product work.
Use design tokens to feed common design properties into different platforms.
You won't do it all at once. That's okay. Baby steps.
---
The Mythology of Design Systems by Mina Markham
It's day two of An Event Apart San Francisco. The brilliant Mina Markham is here to talk to us about design systems (so hot right now!). I'm going to attempt to liveblog it:
Design systems have dominated web design conversations for a few years. Just as there's no one way to make a website, there is no one way to make a design system. Unfortunately this has led to a lot of misconceptions around the creation and impact of this increasingly important tool.

Drawing on her experiences building design systems at two highly visible and vastly different organizations, Mina will debunk some common myths surrounding design systems.
Mina is a designer who codes. Or an engineer who designs. She makes websites. She works at Slack, but she doesn't work on the product; she works on slack.com and the Slack blog. Mina also makes design systems. She loves design systems!
There are some myths she's heard about design systems that she wants to dispel. She will introduce us to some mythological creatures along the way.
Myth 1: Designers "own" the design system
Mina was once talking to a product designer about design systems and was getting excited. The product designer said, nonplussed, "Aren't you an engineer? Why do you care?" Mina explained that she loved design systems. The product designer said "Y'know, design systems should really be run by designers" and walked away.
Mina wondered if she had caused offense. Was she stepping on someone's toes? The encounter left her feeling sad.
Thinking about it later, she realised that the conversation about design systems is dominated by product designers. There was a recent Twitter thread where some engineers were talking about this: they felt sidelined.
The reality is that design systems should be multi-disciplinary. That means engineers but it also means other kinds of designers other than product designers too: brand designers, content designers, and so on.
What you need is a hybrid, or unicorn: someone with complimentary skills. As Jina has said, design systems themselves are hybrids. Design systems give hybrids (people) a home. Hybrids help bring unity to an organization.
Myth 2: design systems kill creativity
Mina hears this one a lot. It's intertwined with some other myths: that design systems don't work for editorial content, and that design systems are just a collection of components.
Components are like mermaids. Everyone knows what one is supposed to look like, and they can take many shapes.
But if you focus purely on components, then yes, you're going to get frustrated by a feeling of lacking creativity. Mina quotes @brijanp saying "Great job scrapbookers".
Design systems encompass more than components:
High level principles.
Brand guidelines.
Coding standards.
Accessibility compliance.
Governance.
A design system is a set of rules enforced by culture, process and tooling that govern how your organization creates products.
—Mina
Rules and creativity are not mutually exclusive. Rules can be broken.
For a long time, Mina battled against one-off components. But then she realised that if they kept coming up, there must be a reason for them. There is a time and place for diverging from the system.
It's like Alice Lee says about illustrations at Slack:
There's a time and place for both—illustrations as stock components, and illustrations as intentional complex extensions of your specific brand.
Yesenia says:
Your design system is your pantry, not your cookbook.
If you keep combining your ingredients in the same way, then yes, you'll keep getting the same cake. But if you combine them in different ways, there's a lot of room for creativity. Find the key moments of brand expression.
There are strict and loose systems.
Strict design systems are what we usually think of. AirBnB's design system is a good example. It's detailed and tightly controlled.
A loose design system will leave more space for experimentation. TED's design system consists of brand colours and wireframes. Everything else is left to you:
Consistency is good only insofar as it doesn't prevent you from trying new things or breaking out of your box when the context justifies it.
Yesenia again:
A good design sytem helps you improvise.
Thinking about strict vs. loose reminds Mina of product vs. marketing. A design system for a product might need to be pixel perfect, whereas editorial design might need more breathing room.
Mina has learned to stop fighting the one-off snowflake components in a system. You want to enable the snowflakes without abandoning the system entirely.
A loose system is key for maintaining consistency while allowing for exploration and creativity.
Myth 3: a design system is a side project
Brad guffaws at this one.
Okay, maybe no one has said this out loud, but you definitely see a company's priorities focused on customer-facing features. A design system is seen as something for internal use only. "We'll get to this later" is a common refrain.
"Later" is a mythical creature—a phoenix that will supposedly rise from the ashes of completed projects. Mina has never seen a phoenix. You never see "later" on a roadmap.
Don't treat your design system as a second-class system. If you do, it will not mature. It won't get enough time and resources. Design systems require real investment.
Mina has heard from people trying to start design systems getting the advice, "Just do it!" It seems like good advice, but it could be dangerous. It sets you up for failure (and burnout). "Just doing it" without support is setting people up for a bad experience.
The alternative is to put it on the roadmap. But…
Myth 4: a design system should be on the product roadmap
At a previous company, Mina once put a design system on the product roadmap because she saw it wasn't getting the attention it needed. The answer came back: nah. Mina was annoyed. She had tried to "just do it" and now when she tried to do it through the right channels, she's told she can't.
But Mina realised that it's not that simple. There are important metrics she might not have been aware of.
A roadmap is multi-faceted thing, like Cerebus, the three-headed dog of the underworld.
Okay, so you can't put the design sytem on the roadmap, but you can tie it to something with a high priority. You could refactor your way to a design system. Or you could allocate room in your timeline to slip in design systems work (pad your estimates a little). This is like a compromise between "Just do it!" and "Put it on the roadmap."
A system's value is realized when products ship features that use a system's parts.
—Nathan Curtis
The other problem with putting a design system on the roadmap is that it implies there's an end date. But a design system is never finished (unless you abandon it).
Myth 5: our system should do what XYZ's system did
It's great that there are so many public design systems out there to look to and get inspired by. We can learn from them. "Let's do that!"
But those inspiring public systems can be like a succubus. They're powerful and seductive and might seem fun at first but ultimately leave you feeling intimidated and exhausted.
Your design system should be build for your company's specific needs, not Google's or Github's or anyone's.
Slack has multiple systems. There's one for the product called Slack Kit. It's got great documentation. But if you go on Slack's marketing website, it doesn't look like the product. It doesn't use the same typography or even colour scheme. So it can't use the existing the design system. Mina created the Spacesuit design system specifically for the marketing site. The two systems are quite different but they have some common goals:
Establish common language.
Reduce technical debt.
Allow for modularity.
But there are many different needs between the Slack client and the marketing site. Also the marketing site doesn't have the same resources as the Slack client.
Be inspired by other design systems, but don't expect the same resutls.
Myth 6: everything is awesome!
When you think about design systems, everything is nice and neat and orderly. So you make one. Then you look at someone else's design system. Your expectations don't match the reality. Looking at these fully-fledged design systems is like comparing Instagram to real life.
The perfect design system is an angel. It's a benevolent creature acting as an intermediary between worlds. Perhaps you think you've seen one once, but you can't be sure.
The truth is that design system work is like laying down the railway tracks while the train is moving.
For a developer, it is a rare gift to be able to implement a project with a clean slate and no obligations to refactor an existing codebase.
Mina got to do a complete redesign in 2017, accompanied by a design system. The design system would power the redesign. Everything was looking good. Then slowly as the rest of the team started building more components for the website, unconnected things seemed to be breaking. This is what design systems are supposed to solve. But people were creating multiple components that did the same thing. Work was happening on a deadline.
Even on the Hillary For America design system (Pantsuit), which seemed lovely and awesome on the outside, there were multiple components that did the same thing. The CSS got out of hand with some very convoluted selectors trying to make things flexible.
Mina wants to share those stories because it sometimes seems that we only share the success stories.
Share work in progress. Learn out in the open. Be more vulnerable, authentic, and real.
---
On this day
I'm in San Francisco to speak at An Event Apart, which kicks off tomorrow. But I arrived a few days early so that I could attend Indie Web Camp SF.
Yesterday was the discussion day. Most of the attendees were seasoned indie web campers, so quite a few of the discussions went deep on some of the building blocks. It was a good opportunity to step back and reappraise technology decisions.
Today is the day for making, tinkering, fiddling, and hacking. I had a few different ideas of what to do, mostly around showing additional context on my blog posts. I could, for instance, show related posts—other blog posts (or links) that have similar tags attached to them.
But I decided that a nice straightforward addition would be to show a kind of "on this day" context. After all, I've been writing blog posts here for eighteen years now; chances are that if I write a blog post on any given day, there will be something in the archives from that same day in previous years.
So that's what I've done. I'll be demoing it shortly here at Indie Web Camp, but you can see it in action now. If you look at the page for this blog post, you should see a section at the end with the heading "Previously on this day". There you'll see links to other posts I've written on December 8th in years gone by.
It's quite a mixed bag. There's a post about when I used to have a webcam from sixteen years ago. There's a report from the Flash On The Beach conference from thirteen years ago (I wrote that post while I was in Berlin). And five years ago, I was writing about markup patterns for web components.
I don't know if anyone other than me will find this feature interesting (but as it's my website, I don't really care). Personally, I find it fascinating to see how my writing has changed, both in terms of subject matter and tone.
Needless to say, the further back in time you go, the more chance there is that the links in my blog posts will no longer work. That's a real shame. But then it's a pleasant surprise when I find something that I linked to that is still online after all this time. And I can take comfort from the fact that if anyone has ever linked to anything I've written on my website, then those links still work.
---
Oh, Vienna!
Earlier this year I was in Düsseldorf for a triple bill of events:
At Accessibility Club, I had the pleasure of seeing a great presentation from Manuel Matuzovic. Afterwards, a gaggle of us geeks went out for currywurst and beer. I got chatting with Manuel, who mentioned that he's based in Vienna, where he organises a web meetup. I told him I'd love to come and speak at it sometime. He seemed very keen on the idea!
A few weeks later, I dropped him a line so he knew I was serious with my offer:
Hi Manuel,

Just wanted to drop a quick line to say how nice it was to hang out in Düsseldorf—albeit briefly.

I'd definitely be up for coming over to Vienna sometime for a meet up. Hope we can make that work sometime!

Cheers,

Jeremy
Manuel responded:
thank you for reaching out to me. Your timing couldn't be better. :)

I was so excited that you showed interest in visiting Vienna that I thought about organising something that's a little bit bigger than a meetup but smaller than a conference. 

I'm meeting today with my friend Max Böck to tell him about the idea and to ask him if he would want to help me organise a event.
Well, they did it. I just got back from the inaugural Web Clerks Community Conf in Vienna. It was a day full of excellent talks given to a very warm and appreciate audience.
The whole thing was livestreamed so you can catch up on the talks. I highly recommend watching Max's talk on the indie web.
I had a really nice time hanging out with friends like Charlie, Rachel, Heydon, and my travelling companion, Remy. But it was equally great to meet new people, like the students who were volunteering and attending. I love having the chance to meet the next generation of people working on the web.
---
Accessibility on The Session revisited
Earlier this year, I wrote about an accessibility issue I was having on The Session. Specifically, it was an issue with Ajax and pagination. But I managed to sort it out, and the lesson was very clear:
As is so often the case, the issue was with me trying to be too clever with ARIA, and the solution was to ease up on adding so many ARIA attributes.
Well, fast forward to the past few weeks, when I was contacted by one of the screen-reader users on The Session. There was, once again, a problem with the Ajax pagination, specifically with VoiceOver on iOS. The first page of results were read out just fine, but subsequent pages were not only never announced, the content was completely unavailable. The first page of results would've been included in the initial HTML, but the subsequent pages of results are injected with JavaScript (if JavaScript is available—otherwise it's regular full-page refreshes all the way).
This pagination pattern shows up all over the site: lists of what's new, search results, and more. I turned on VoiceOver and I was able to reproduce the problem straight away.
I started pulling apart my JavaScript looking for the problem. Was it something to do with how I was handling focus? I just couldn't figure it out. And other parts of the site that used Ajax didn't seem to be having the same problem. I was mystified.
Finally, I tracked down the problem, and it wasn't in the JavaScript at all.
Wherever the pagination pattern appears, there are "previous" and "next" links, marked up with the appropriate rel="prev" and rel="next" attributes. Well, apparently past me thought it would be clever to add some ARIA attributes in there too. My thinking must've been something like this:
Those links control the area of the page with the search results.
That area of the page has an ID of "results".
I should add aria-controls="results" to those links.
That was the problem …which is kind of weird, because VoiceOver isn't supposed to have any support for aria-controls. Anyway, once I removed that attribute from the links, everything worked just fine.
Just as the solution last time was to remove the aria-atomic attribute on the updated area, the solution this time was to remove the aria-controls attribute on the links that trigger the update. Maybe this time I'll learn my lesson: don't mess with ARIA attributes you don't understand.
---
Rams
I've made a few trips to Germany recently. I was in Berlin last week for the always-excellent Beyond Tellerrand. Marc did a terrific job of curating an entertaining and thought-provoking line-up of speakers. He also made sure that those speakers—myself included—were very well taken care of.
I was also in Frankfurt last month. It was for an event, but for once, it wasn't an event that involved me in any way. Jessica was there for the Frankfurt Book Fair. I was tagging along for the ride.
While Jessica was out at the sprawling exhibition hall on the edge of town, I was exploring downtown Frankfurt. One lunch time, I found myself wandering around the town's charming indoor market hall.
While I was perusing the sausages on display, I noticed an older gentleman also inspecting the meat wares. He looked familiar. That's when the part of my brain responsible for facial recognition said "That's Dieter Rams." A more rational part of my brain said "It can't be!", but it seemed that my pattern matching was indeed correct.
As he began to walk away, the more impulsive part of my brain shouted "Say something!", and before my calmer nature could intervene, I was opening my mouth to speak.
I think I would've been tongue-tied enough introducing myself to someone of Dieter Rams's legendary stature, but it was compounded by having to do it in a second language.
"Entschulding Sie!", I said ("Excuse me"). "Sind Sie Dieter Rams?" ("Are you Dieter Rams?")
"Ja, bin ich", he said ("Yes, I am").
At this point, my brain realised that it had nothing further planned and it left me to my own devices. I stumbled through a sentence saying something about what a pleasure it was to see him. I might have even said something stupid along the lines of "I'm a web designer!"
Anyway, he smiled politely as I made an idiot of myself, and then I said goodbye, reiterating that it was a real treat for me to meet him.
After I walked outside, I began questioning reality. Did that really just happen? It felt utterly surreal.
Of course afterwards I thought of all the things I could've said. L'esprit de l'escalier. Or as the Germans put it, Treppenwitz.
I could've told him that I collect design principles, of which his are probably the most well-known.
I could've told him about the time that Clearleft went on a field trip to the Design Museum in London to see an exhibition of his work, and how annoyed I was by the signs saying "Do Not Touch" …in front of household objects that were literally designed to be touched!
I could've told him how much I enjoyed the documentary that Gary Hustwit made about him.
But I didn't say any of those things. I just spouted some inanity, like the starstruck fanboy I am.
There'll be a lunchtime showing of the Rams documentary at An Event Apart in San Francisco, where I'll be speaking in a few weeks. Now I wonder if rewatching it is just going to make me cringe as I'm reminded of my encounter in Frankfurt.
But I'm still glad I said something.
---
Mental models
I've found that the older I get, the less I care about looking stupid. This is remarkably freeing. I no longer have any hesitancy about raising my hand in a meeting to ask "What's that acronym you just mentioned?" This sometimes has the added benefit of clarifying something for others in the room who might have been to shy to ask.
I remember a few years back being really confused about npm. Fortunately, someone who was working at npm at the time came to Brighton for FFConf, so I asked them to explain it to me.
As I understood it, npm was intended to be used for managing packages of code for Node. Wasn't it actually called "Node Package Manager" at one point, or did I imagine that?
Anyway, the mental model I had of npm was: npm is to Node as PEAR is to PHP. A central repository of open source code projects that you could easily add to your codebase …for your server-side code.
But then I saw people talking about using npm to manage client-side JavaScript. That really confused me. That's why I was asking for clarification.
It turns out that my confusion was somewhat warranted. The npm project had indeed started life as a repo for server-side code but had since expanded to encompass client-side code too.
I understand how it happened, but it confirmed a worrying trend I had noticed. Developers were writing front-end code as though it were back-end code.
On the one hand, that makes total sense when you consider that the code is literally in the same programming language: JavaScript.
On the other hand, it makes no sense at all! If your code's run-time is on the server, then the size of the codebase doesn't matter that much. Whether it's hundreds or thousands of lines of code, the execution happens more or less independentally of the network. But that's not how front-end development works. Every byte matters. The more code you write that needs to be executed on the user's device, the worse the experience is for that user. You need to limit how much you're using the network. That means leaning on what the browser gives you by default (that's your run-time environment) and keeping your code as lean as possible.
Dave echoes my concerns in his end-of-the-year piece called The Kind of Development I Like:
I now think about npm and wonder if it's somewhat responsible for some of the pain points of modern web development today. Fact is, npm is a server-side technology that we've co-opted on the client and I think we're feeling those repercussions in the browser.
Writing back-end and writing front-end code require very different approaches, in my opinion. But those differences have been erased in "modern" JavaScript.
The Unix Philosophy encourages us to write small micro libraries that do one thing and do it well. The Node.js Ecosystem did this in spades. This works great on the server where importing a small file has a very small cost. On the client, however, this has enormous costs.
In a funny way, this situation reminds me of something I saw happening over twenty years ago. Print designers were starting to do web design. They had a wealth of experience and knowledge around colour theory, typography, hierarchy and contrast. That was all very valuable to bring to the world of the web. But the web also has fundamental differences to print design. In print, you can use as many typefaces as you want, whereas on the web, to this day, you need to be judicious in the range of fonts you use. But in print, you might have to limit your colour palette for cost reasons (depending on the printing process), whereas on the web, colours are basically free. And then there's the biggest difference of all: working within known dimensions of a fixed page in print compared to working within the unknowable dimensions of flexible viewports on the web.
Fast forward to today and we've got a lot of Computer Science graduates moving into front-end development. They're bringing with them a treasure trove of experience in writing robust scalable code. But web browsers aren't like web servers. If your back-end code is getting so big that it's starting to run noticably slowly, you can throw more computing power at it by scaling up your server. That's not an option on the front-end where you don't really have one run-time environment—your end users have their own run-time environment with its own constraints around computing power and network connectivity.
That's a very, very challenging world to get your head around. The safer option is to stick to the mental model you're familiar with, whether you're a print designer or a Computer Science graduate. But that does a disservice to end users who are relying on you to deliver a good experience on the World Wide Web.
---
Third party
The web turned 30 this year. When I was back at CERN to mark this anniversary, there was a lot of introspection and questioning the direction that the web has taken. Everyone I know that uses the web is in agreement that tracking and surveillance are out of control. It seems only right to question whether the web has lost its way.
But here's the thing: the technologies that enable tracking and surveillance didn't exist in the early years of the web—JavaScript and cookies.
Without cookies, the web was stateless. This was by design. Now, I totally understand why cookies—or something like cookies—were needed. Without some way of keeping track of state, there's no good way for a website to "remember" what's in your shopping cart, or whether you've authenticated yourself.
But why would cookies ever need to work across domains? Authentication, shopping carts and all that good stuff can happen on the same domain. Third-party cookies, on the other hand, seem custom made for tracking and frankly, not much else.
Browsers allow you to disable third-party cookies, though it's not yet the default. If enough people do it—and complain about the sites that stop working when third-party cookies are disabled—then maybe it can become the default.
Firefox is taking steps in this direction, automatically disabling some third-party cookies—the ones that known trackers. Safari is also taking steps to prevent cross-site tracking. It's not too late to change the tide of third-party cookies.
Then there's third-party JavaScript.
In retrospect, it seems unbelievable that third-party JavaScript is even possible. I mean, putting arbitrary code—that can then inject even more arbitrary code—onto your website? That seems like a security nightmare!
I imagine if JavaScript were being specced today, it would almost certainly be restricted to the same origin by default. But I guess the precedent had been set with images and style sheets: they could be embedded regardless of whether their domain names matched yours. Still, this is executable code we're talking about here: that's quite a footgun that the web has given site owners. And boy, oh boy, has it been used by the worst people to do the most damage.
Again, as with cookies, if we were to imagine what the web would be like if JavaScript was restricted by a same-domain policy, there are certainly things that would be trickier to do.
Embedding video, audio, and maps would get a lot finickier.
Analytics would need to be self-hosted. I don't think that would bother any site owners. An analytics platform like Google Analytics that tracks people across domains is doing it for its own benefit rather than that of site owners.
Advertising wouldn't be creepy and annoying. Instead of what's so euphemistically called "personalisation", advertisers would have to rely on serving relevant ads based on the content of the site rather than an invasive psychological profile of the user. (I honestly think that advertisers would benefit from this kind of targetting.)
It's harder to imagine putting the genie back in the bottle when it comes to third-party JavaScript than it is with third-party cookies. All the same, I wish that browsers made it easier to experiment with it. Just as I can choose to accept all cookies, reject all cookies, or only accept same-origin cookies, I wish I could accept all JavaScript, reject all JavaScript, or only accept same-origin JavaScript.
As it is, browsers are making it harder and harder to exercise any control over JavaScript at all. So we reach for third-party tools. We don't call them JavaScript managers though. We call them ad blockers. But honestly, most of the ad-blocker users I know—myself included—are not bothered by the advertising; we're bothered by the tracking. We should really call them surveillance blockers.
If third-party JavaScript weren't the norm, not only would it make the web more secure, it would make it way more performant. Read the chapter on third parties in this year's newly-released Web Almanac. The figures are staggering.
93% of pages include at least one third-party resource, 76% of pages issue a request to an analytics domain, the median page requests content from at least 9 unique third-party domains that represent 35% of their total network activity, and the most active 10% of pages issue a whopping 175 third-party requests or more.
I don't think all the web's performance ills are due to third-party scripts; developers are doing a bang-up job of making their sites big and bloated with their own self-hosted frameworks and code. But as long as third-party JavaScript is allowed onto a site, there's a limit to how much good developers can do to improve the performance of their sites.
I go to performance-related conferences and you know who I've never seen at those events? The people who write the JavaScript for third-party tracking scripts. Those developers are wielding an outsized influence on the health of the web.
I'm very happy to see the work being done by Mozilla and Apple to normalise the idea of rejecting third-party cookies. I'd love to see the rejection of third-party JavaScript normalised in the same way. I know that it would make my life as a developer harder. But that's of lesser importance. It would be better for the web.
---
CSS for all
There have been some great new CSS properties and values shipping in Firefox recently.
Miriam Suzanne explains the difference between the newer revert value and the older inherit, initial and unset values in a video on the Mozilla Developer channel:
display: revert;

In another video, Jen describes some new properties for styling underlines (on links, for example):
text-decoration-thickness:  0.1em;
text-decoration-color: red;
text-underline-offset: 0.2em;
text-decoration-skip-ink: auto;

Great stuff!
As far as I can tell, all of these properties are available to you regardless of whether you are serving your website over HTTP or over HTTPS. That may seem like an odd observation to make, but I invite you to cast your mind back to January 2018. That's when the Mozilla Security Blog posted about moving to secure contexts everywhere:
Effective immediately, all new features that are web-exposed are to be restricted to secure contexts. Web-exposed means that the feature is observable from a web page or server, whether through JavaScript, CSS, HTTP, media formats, etc. A feature can be anything from an extension of an existing IDL-defined object, a new CSS property, a new HTTP response header, to bigger features such as WebVR.
(emphasis mine)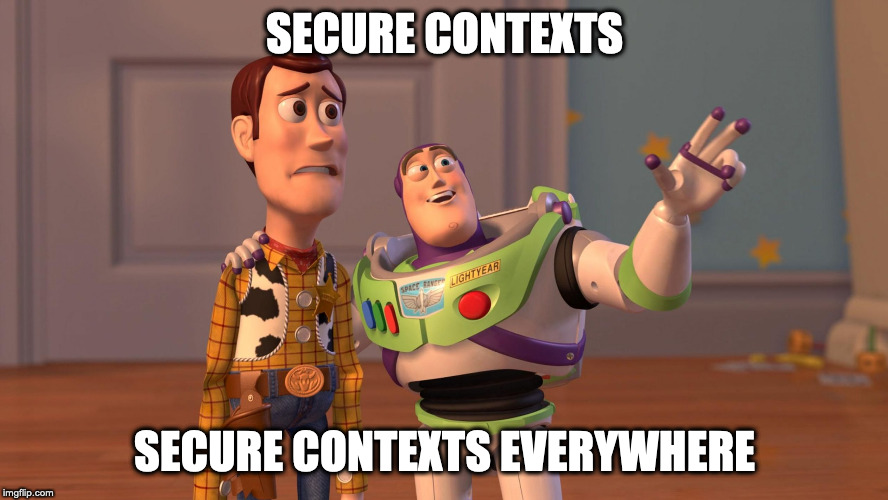 Despite that "effective immediately" clause, I haven't observed any of the new CSS properties added in the past two years to be restricted to HTTPS. I'm glad about that. I wrote about this announcement at the time:
I am in total agreement that we should be encouraging everyone to switch to HTTPS. But requiring HTTPS in order to use CSS? The ends don't justify the means.

If there were valid security reasons for making HTTPS a requirement, I would be all for enforcing this. But these are two totally separate areas. Enforcing HTTPS by withholding CSS support is no different to enforcing AMP by withholding search placement.
There's no official word from the Mozilla Security Blog about any change to their two-year old "effective immediately" policy, and the original blog post hasn't been updated. Maybe we can all just pretend it never happened.
---
FF Conf 2019
Friday was FF Conf day here in Brighton. This was the eleventh(!) time that Remy and Julie have put on the event. It was, as ever, excellent.
It's a conference that ticks all the boxes for me. For starters, it's a single-track event. The more I attend conferences, the more convinced I am that multi-track events are a terrible waste of time for attendees (and a financially bad model for organisers). I know that sounds like a sweeping broad generalisation, but ask me about it next time we meet and I'll go into more detail. For now, I just want to talk about this mercifully single-track conference.
FF Conf has built up a rock-solid reputation over the years. I think that's down to how Remy curates it. He thinks about what he wants to know and learn more about, and then thinks about who to invite to speak on those topics. So every year is like a snapshot of Remy's brain. By happy coincidence, a snapshot of Remy's brain right now looks a lot like my own.
You could tell that Remy had grouped the talks together in themes. There was a performance-themed chunk right after lunch. There was a people-themed chunk in the morning. There was a creative-coding chunk at the end of the day. Nice work, DJ.
I think it was quite telling what wasn't on the line-up. There were no talks about specific libraries or frameworks. For me, that was a blessed relief. The only technology-specific talk was Alice's excellent talk on Git—a tool that's useful no matter what you're coding.
One of the reasons why I enjoyed the framework-free nature of the day is that most talks—and conferences—that revolve around libraries and frameworks are invariably focused on the developer experience. Think about it: next time you're watching a talk about a framework or library, ask yourself how it impacts user experience.
At FF Conf, the focus was firmly on people. In the case of Laura's barnstorming presentation, those people are end users (I'm constantly impressed by how calm and measured Laura remains even when talking about blood-boilingly bad behaviour from the tech industry). In the case of Amina's talk, the people are junior developers. And for Sharon's presentation, the people are everyone.
One of the most useful talks of the day was from Anna who took us on a guided tour of dev tools to identify performance improvements. I found it inspiring in a very literal sense—if I had my laptop with me, I think I would've opened it up there and then and started tinkering with my websites.
Harry also talked about performance, but at Remy's request, it was more business focused. Specifically, it was focused on Harry's consultancy business. I think this would've been the perfect talk for more of an "industry" event, whereas FF Conf is very much a community event: Harry's semi-serious jibes about keeping his performance secrets under wraps didn't quite match the generous tone of the rest of the line-up.
The final two talks from Charlotte and Suz were a perfect double whammy.
When I saw Charlotte speak at Material in Iceland last year, I wrote this aside in my blog post summary:
(Oh, and Remy, when you start to put together the line-up for next year's FF Conf, be sure to check out Charlotte Dann—her talk at Material was the perfect mix of code and creativity.)
I don't think I can take credit for Charlotte being on the line-up, but I will take credit for saying she'd be the perfect fit.
And then Suz Hinton closed out the conference with this rallying cry that resonated perfectly with Laura's talk:
Less mass-produced surveillance bullshit and more Harry Potter magic (please)!
I think that rallying cry could apply equally well to conferences, and I think FF Conf is a good example of that ethos in action.
---
Page created: Fri, Dec 13, 2019 - 09:05 AM GMT