Axios
https://www.axios.com/top/
Axios
https://api.axios.com/feed/top
---
The Veterans of Foreign Wars says Trump minimized soldiers injuries from Iran attack
The Veterans of Foreign Wars, the nation's largest veterans group, is asking President Trump to apologize for minimizing the injuries of troops sustained in an attack from Iran on a U.S. base in Iraq.
Context: Iran attacked a U.S. base in Iraq after an American drone killed Iranian Gen. Qasem Soleimani. Trump had originally said U.S. soldiers didn't suffer any injuries, but the Pentagon confirmed on Friday that 34 soldiers suffered from traumatic brain injuries.
---
Trump said at a news conference earlier this week that he did not consider the injuries very serious.
"I heard that they had headaches, and a couple of other things. No, I don't consider them very serious injuries relative to other injuries that I've seen," the Wall Street Journal quotes the president as saying. "I've seen people with no legs and no arms."
What they're saying:
"In light of today's announcement from the Defense Department that 34 U.S. service members suffered traumatic brain injuries [TBI] as a result of Iran's retaliatory strike and President Trump's remarks which minimized these troops' injuries, the Veterans of Foreign Wars cannot stand idle on this matter." 
"TBI is a serious injury and one that cannot be taken lightly. TBI is known to cause depression, memory loss, severe headaches, dizziness and fatigue — all injuries that come with both short- and long-term effects." 
"The VFW expects an apology from the president to our service men and women for his misguided remarks. And, we ask that he and the White House join with us in our efforts to educate Americans of the dangers TBI has on these heroes as they protect our great nation in these trying times. Our warriors require our full support more than ever in this challenging environment."
William "Doc" Schmitz, VFW National Commander
The White House declined to comment.
Go deeper:
Sat, 25 Jan 2020 20:32:57 +0000
---
A surge in the "jobs of the future"
The last quarter of 2019 saw a big jump in demand for a bundle of jobs that could dominate the future, per an index tracked by the IT services firm Cognizant.
Why it matters: "The notion that there's gonna be a jobs apocalypse has been with us for the last decade, but the data shows that's not coming to pass," says Rob Brown, VP of Cognizant's Center for the Future of Work.
---
The backdrop: For over a year, Cognizant has been tracking U.S. hiring for 50 jobs that it deems forward-looking, with statistics going back to 2016 pulled from the Bureau of Labor Statistics via Burning Glass, a jobs database.
Cognizant's Jobs of the Future Index includes jobs in AI, transportation, health care, human resources and more.
That demand for these jobs of the future is growing faster than demand for all jobs is a bright spot in the ongoing discussion about how tech will upend the future of work. Yes, automation and AI will disrupt jobs, but they will — and already do — create a host of new occupations and wholly new industries.
But, but, but: There's still a dire lack of job training in the U.S. — a necessary step to prepare workers for the future of work.
All of Cognizant's jobs of the future — both high skill and low skill — are tech-infused, and companies will need to train and retrain employees to prepare them for these roles, says Brown.
"The road to the future of work runs right through HR," he says.
Go deeper: Browse the jobs of the future
Sat, 25 Jan 2020 19:52:35 +0000
---
Socioeconomic mobility in U.S. is at its most sluggish in history
The American Dream's promise of a better life if you work hard enough is fracturing.
The big picture: Socioeconomic mobility in the U.S. is at its most sluggish in history. Not only are fewer Americans living better than their parents, but there's also a growing number of people doing worse than their parents.
---
By the numbers:
The World Economic Forum released a report this week in Davos that ranked the United States 27th in the world for social mobility. The top five nations were Denmark, Norway, Finland. Sweden and Iceland.
In a recent study, researchers from UPenn, Northwestern, the University of Nebraska and the Census Bureau looked back as far as 1850 and concluded that socioeconomic mobility in America is at its worst ever.
Per the study, around 60% of people born in the 1940s did better than their parents, compared to 40% of those born in the 1980s.
And just 15% of 1940s kids lived worse than their parents, compared to 30% of people born in the 1980s.
"Most parents expect that their kids will do better than them," says Xi Song, a professor at UPenn and one of the researchers. But now that happens for less than half of kids.
There's a stark racial gap when it comes to mobility, Stanford law professor Ralph Richard Banks writes in a New York Times op-ed.
"Black boys who grow up rich are twice as likely as their white counterparts to end up poor."
"And of those black boys who start life poor, nearly half will remain so in adulthood, while more than 2 in 3 of their white peers will escape the poverty of their youth."
And mobility depends on where you grow up, too.
As we reported earlier this week, kids' earning potential and life expectancy hinge on the neighborhoods where they were born.
"For moving from the bottom of the income ladder to the top, the South offers the worst odds in the United States," per NYT.
On top of that, areas with low social mobility in the U.S. also have larger life expectancy gaps between the rich and the poor, per another UPenn study out this week.
The bottom line: Worsening income inequality paired with stagnant socioeconomic mobility is defining today's America. And these trends will impact everything from public health to how people vote in 2020.
Go deeper:
Sat, 25 Jan 2020 19:46:38 +0000
---
Israel's Benny Gantz accepts Trump's invitation for White House meeting
Benny Gantz, the leader of Israel's Blue and White party who is challenging Prime Minister Benjamin Netanyahu in upcoming elections, has accepted President Trump's invitation for a separate, one-on-one meeting at the White House on Monday.
What Gantz is saying: "There is a special long-standing bond between the United States and Israel, built on shared values and joint interests. The United States is Israel's closest ally and friend, and under President Trump's leadership, the alliance between Israel and the United States has grown stronger, deeper and more significant than ever."
---
How it works: Netanyahu announced he will meet Trump separately at the White House on Monday and Tuesday.
Context: Gantz previously considered turning down Trump's White House invitation when Vice President Pence stated that Gantz was invited on Netanyahu's recommendation.
The big picture: Little more than a month remains before Israel's elections on March 2. Had Gantz rejected Trump's offer, he could've risked alienating the Trump and being seen as a politician who couldn't handle the relationship with Israel's most important ally.
Go deeper: Gantz considers turning down Trump's White House invitation
Sat, 25 Jan 2020 19:17:24 +0000
---
While the U.S. plays tough, the rest of the world is showing that it needs China
DAVOS, Switzerland — The Trump administration is gearing up for a long-term confrontation with China, a rival viewed increasingly as an existential threat, but a week in Davos offers a stark reminder that the world is not prepared to line up behind it.
The big picture: There was a palpable sense of relief among the Davos crowd after the "phase one" trade deal reduced tensions between the U.S. and China.
---
But while both parties in D.C. think this is just the beginning, the executives we spoke to see it as a sign that the world's biggest market remains a can't-miss opportunity.
Experts, executives and most world leaders agree: China is too big and advancing too fast to be forced out of the equation.
On 5G technology, where the U.S. has squeezed allies hard to convince them to shun China's Huawei, the U.K. and Germany, among others, are hedging their bets, and China is using leverage of its own.
Electric vehicle manufacturing is just one example of an industry where it's not possible to be competitive globally without employing Chinese technology, says Adam Tooze, a historian at Columbia University.
The dependency goes both ways. Most consumer electronics, including nearly all computers and smartphones, are made in China, while China still relies on U.S. semiconductors and software. 
"It's more of a Washington sentiment than it is a business sentiment," Kelly Grier, U.S. chair and managing partner of Ernst & Young, says of hawkish claims that doing business in China crosses security and ethical boundaries.
The recent trade war escalation provided a "wake-up call" to U.S. business about just how dependent they had become on China, Grier says. They're adjusting, but not prepared to walk away from that market.
But, but, but: "The bipartisan mobilization around this issue is a game-changer," Tooze says. Even if Trump is only searching for short-term political advantage — he gushed about his friendship with Xi Jinping while in Davos — the Pentagon is not.
Heads of state now find themselves walking a tightrope between two giants.
"Whereas it was previously effortless to say, 'I am friends with everybody and including friends with the United States and with China,' now we still want to be friends with everybody but you are pushed to be better friends with one side or the other," Singapore Prime Minister Lee Hsien Loong said in an address.
Many, if forced, will choose China. Consider African countries dependent on Beijing for investment and infrastructure. "The pressure they're under is not from nagging human rights defenders in the West," says David Miliband, CEO of the International Rescue Committee. It's from China.
"If you're in the Asia-Pacific — every single country's main source of imports is China," notes Carlos Pascual of IHS Markit and a former senior U.S. diplomat. "Are those countries going to break economic relations with China? Unlikely."
What to watch: As the U.S. and China begin to disentangle parts of their economies, business leaders are looking for new friends and partners while hoping they can play in both the U.S. and Chinese markets as long as possible.
The bottom line: "We're navigating a zone we've never been in before. It was all so much simpler during the Cold War," says Tooze.
Go deeper:
Sat, 25 Jan 2020 18:46:53 +0000
---
⚖️ Live updates: Trump's lawyers begin their presentation against impeachment
After three days of "why" came the "why not." President Trump's legal team took their turn before the Senate on Saturday to rebut Democrats' lengthy arguments for removing Trump from office.
Why it matters: Today's two-hour session was a first look at Trump's defense. The Trump team methodically tried to poke holes in the House impeachment managers' case, rather than going after the Bidens, as they previously suggested they will.
---
Trump's defense team noted during two hours every bit of evidence they say the managers skipped, trying to cast doubt whenever it could on linking Trump's requests to investigate the Bidens to delaying military aide to Ukraine.
The Senate proceedings will resume at 1 pm on Monday.
Highlights:
Trump lawyer Jay Sekulow held up a copy of the Mueller report and noted, "'ultimately' -- these are the words of Bob Mueller in his report -- 'this investigation did not establish that the campaign coordinated or conspired with the Russian government and its election interference activities.'"
Context: The Mueller investigation established multiple links between Trump campaign officials and people tied to the Russian government — including Russian offers of campaign assistance that the campaign was occasionally receptive to.
Trump deputy counsel Michael Purpura pointed to testimony from Bill Taylor, George Kent, Kurt Volker, and Tim Morrison to argue that Ukrainian officials did not know key military aid was withheld at the time of Trump's infamous July 25 call with Ukraine's president, so withholding aid could not have been a threat.
Between the lines: Ukraine's former deputy foreign minister Olena Zerkal told the New York Times that Ukraine's government was aware of the Trump administration's decision to freeze military aid in July.
Context: Emails released to the Center for Public Integrity show the OMB ordered the Pentagon to withhold military aid to Ukraine 91 minutes after Trump's phone call with Ukrainian counterpart Volodymyr Zelensky.
White House counsel Pat Cipollone opened Saturday's session by accusing House Democrats of hiding evidence from the Senate and framing the historic decision to impeach Trump as taking away voters' ability to judge the president for his actions.
The mood in the chamber: Of the five Republicans who are being watched most closely as possible votes for witnesses, Sens. Susan Collins, Lisa Murkowski, and Cory Gardner were the most prolific note-takers.
Of the Democrats seeking the White House:
Sen. Bernie Sanders sat slumped at his desk, resting his chin on his hand or fidgeting with his fingers clasped in front of his face.
Sen. Elizabeth Warren sat hunched over a legal pad for a long time, writing furiously and not appearing to pay attention to the trial.
Sen. Amy Klobuchar took some notes and watched some of the Trump team's remarks, but often looked away and stared around the room.
The other side: Democratic House impeachment managers marched 28,578 pages of impeachment trial and witness records to the Senate on Saturday morning.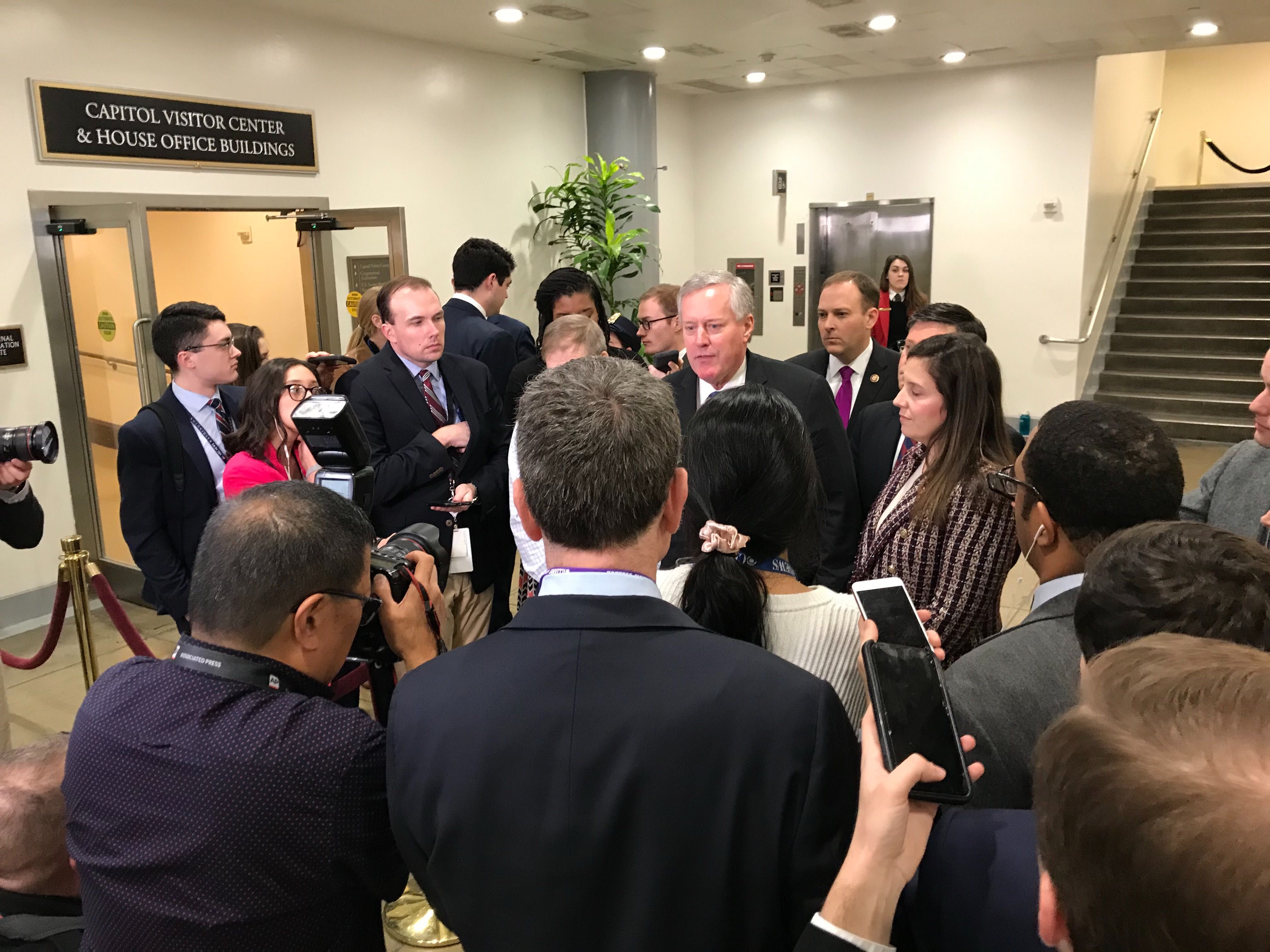 Reps. Mark Meadows (R-N.C.) and Elise Stefanik (R-N.Y.) meet with reporters before Saturday's session of the Senate impeachment trial. Photo: David Nather.
What you need to know:
Go deeper:
Sat, 25 Jan 2020 17:14:30 +0000
---
France confirms 3 coronavirus cases
41 people have died from an outbreak of a coronavirus strain that originated in Wuhan, China, AP reports.
The latest: The respiratory illness has made its way to Europe, with France confirming three cases, Reuters reports. France's Health Minister Agnès Buzyn said Friday two patients are hospitalized in Paris. The other case is in the southwestern city of Bordeaux. They had returned from a trip that had a stop in Wuhan.
---
Both Australia and Malaysia confirmed their first cases of the virus on Saturday, and Japan confirmed its third.
Two people in the U.S. have been diagnosed with the illness — one in Washington and one in Illinois — the CDC announced on Friday. The agency said that it still considers the infection risk for people in the U.S. to be quite low.
Illinois health department officials were notified of a Chicago woman in her 60s returning from Wuhan on Jan. 13. She did not have symptoms while traveling, but later was admitted to the hospital and placed in isolation.
By the numbers: Health officials confirmed earlier this week that the virus, which causes fever and respiratory symptoms, can be passed from person-to-person. The CDC began screening passengers at airports in San Francisco, New York, Los Angeles, Atlanta and Chicago.
Over 2,000 people on about 200 flights have been screened at the five airports to date — and no cases have been found.
63 patients from 22 states are being investigated for possible infection, including the two positive cases and 11 that have been determined to be negative.
What's happening: The number of confirmed cases in China has increased to nearly 1,300, according to China's National Health Commission.
Hong Kong has closed all of its schools for two weeks, and Wuhan banned the use of cars in downtown areas, per AP.
The country is quickly building a pre-fabricated 1,000-bed hospital to treat only patients infected with coronavirus, as other hospitals struggle to meet demand and deal with a shortage of supplies.
Major cities in China, including Beijing, have canceled large public gatherings for the Lunar New Year holiday, the most important in the country, to help contain the outbreak, according to the Washington Post.
The Chinese government this past week locked down the cities of Wuhan, Huanggang and Ezhou, collectively home to nearly 20 million people, AP reports.
The big picture: Several countries in the region are also experiencing cases, and North Korea is temporarily banning foreign tourists in response to the outbreak, according to Reuters.
What they're saying: The World Health Organization decided Thursday that it's "too early" to declare an international health emergency.
"Make no mistake, this is an emergency in China, but it is not yet a global health emergency," WHO Director-General Dr. Tedros Adhanom Ghebreyesus said at a press conference.
"People's lives and health should be given top priority and the spread of the outbreak should be resolutely curbed," Chinese President Xi Jinping said Monday, according to Reuters.
What's next: A possible live animal source is still being investigated in China. There is no specific treatment for the virus, though several antivirals and experimental vaccines are under investigation.
Go deeper: U.S. to begin airport screening for new China virus as concerns grow
Editor's note: This story has been updated with more recent developments.
Sat, 25 Jan 2020 14:15:54 +0000
---
Trump impeachment trial recap, day 4: Schiff closes
House managers appealed directly to senators to weigh their actions against the precedent they'll set on Congress' ability to serve as a check on the president, as they wrapped up their three-day impeachment presentation.
Why it matters: Lead House impeachment manager Rep. Adam Schiff (D-Calif.) used his last chance to address senators directly and expertly pursued every argument made by Republicans, undercutting what Trump has said publicly, and what he anticipates Trump's defense team will attempt to make over the next few days.
---
What's next: White House counsel Pat Cipollone will likely frame the Senate trial as a defining moment to set the precedent for executive privilege, especially on national security matters, a source familiar with his thinking told Axios' Alayna Treene and Jonathan Swan.
Details: Republicans will present their case starting at 10 a.m. ET and run through 1 p.m.
Go deeper:
Sat, 25 Jan 2020 14:10:16 +0000
---
Trump's impeachment hasn't changed public opinion or the 2020 race
Take a step back, and little has changed in the political landscape four months after House Speaker Nancy Pelosi launched the inquiry against President Trump.
By the numbers: Trump's national approval numbers, public support for his removal and Joe Biden's place as the Democratic primary front-runner have held steady. Meanwhile, the GOP and Trump campaign are raising money off of impeachment.
---
What hasn't changed: The American public is still split over whether Trump should be removed, just as they were split over the launch of an impeachment inquiry in September.
Support for removing Trump has inched up, but not dramatically, according to CNN-SSRS polling. In September, 47% of Americans wanted Trump to be impeached and removed from office, with 45% opposed.
This week, 51% said he should be convicted and removed, with 45% opposed.
Trump's approval numbers still hover around 42% — one of the lowest, but most consistent approval rating streaks of any recent president, according to FiveThirtyEight data.
By contrast, Bill Clinton's approval ratings shot up from the 60% range in early 1998 to 73% during his impeachment in December 1998, according to Gallup.
Biden remains the 2020 Democratic candidate to beat in national polls, despite early concern that Trump's unsubstantiated allegations involving Biden's son and Ukraine would prove damaging.
Beyond one spike in national interest when the House voted to impeach Trump, the general public has had relatively little interest in searching online for updates or news about impeachment, according to Google Trends.
What has changed: Most shifts since the impeachment process began seem to be in Trump's favor. Trump's net approval numbers actually improved in 31 states between September and December, according to Morning Consult data.
They improved by at least 5 points in Iowa, Utah, Maine, Montana and New Mexico.
But his net approval declined in some key states as well, including Michigan and Texas.
The vast majority of Trump's TV ads have involved impeachment. Trump's campaign and the Republican National Committee reportedly raised more than $150 million in just the last three months of 2019.
The RNC says it has attracted more than 600,000 new donors since September. It also recruited more than 100,000 new volunteers through its anti-impeachment "Stop the Madness" campaign website.
But some Democrats have seen an impact too. The Biden campaign says its average digital revenue per day more than doubled during impeachment compared to the weeks before.
It also saw a fundraising spike after the transcript of Trump's phone call with Ukrainian President Volodymyr Zelensky was released, a campaign official told Axios. "It was a moment where people realized what's a stake in this election," the official said.
The Democratic National Committee has already raised as much in January from major donor fundraising as it had by May in 2016 and April in 2008, according to a DNC official.
Pete Buttigieg's national press secretary, Chris Meagher, said the campaign "didn't think it was appropriate to fundraise off a national crisis." Bernie Sanders and Elizabeth Warren's campaigns didn't respond to requests for comment.
"Impeachment continues to backfire on Democrats and fire up voters toward President Trump and the Republican movement."
RNC spokesperson Mandi Merritt in a statement to Axios
In the short term, impeachment has dominated the news for four months and seems to have gotten under Trump's skin. Trump has tweeted or retweeted at least 367 times about impeachment since Sept. 24 — an average of three impeachment tweets per day.
The bottom line: The public — and the parties — are so dug in on Trump that even impeachment hasn't been a tipping point.
Go deeper: GOP monetizes impeachment as Dems try to change the subject
Sat, 25 Jan 2020 12:00:33 +0000
---
Lawyer alleges Giuliani associate recorded Trump comments on Ukrainian ambassador
The lawyer for Lev Parnas, a Rudy Giuliani associate, claims there is a recording of President Trump saying former Ukraine Ambassador Marie Yovanovitch should be fired, the Daily Beast reports.
The latest: Parnas said on Friday that he has turned the recording over to the House Intelligence Committee, per the New York Times — as Rep. Adam Schiff (D-Calif.) led House Democrats in laying out the case for impeaching Trump before the Senate.
---
What they're saying: Parnas' lawyer Joseph Bondy told The Daily Beast that Parnas' former business partner, Igor Fruman, recorded the exchange. The two men were arrested in October on campaign finance charges. Bondy said the recording "is of high materiality to the impeachment inquiry," per the Times.
White House spokesperson Stephanie Grisham: "Every president in our history has had the right to place people who support his agenda and his policies within his administration."
Bondy: "Last year, before he was arrested, Mr. Parnas personally heard a recording of his April 30, 2018, dinner with the president and others, made by Mr. Fruman, at which the subject of Ambassador Yovanovitch was discussed. We have hoped that, to the extent this recording still existed, it would be released to Congress for use in the impeachment trial." 
Fruman's lawyer could not be reached for comment by Axios, but he told the Daily Beast they are not at liberty to discuss the matter.
Worth noting: ABC News originally reported on Friday it reviewed the recording, which Axios has neither obtained nor reviewed.
Go deeper:
Sat, 25 Jan 2020 00:32:11 +0000
---
Axios Dashboard
Keep up with breaking news throughout the day — sign up for our alerts.
Fri, 24 Jan 2020 23:32:01 +0000
---
Actress Rosie Perez corroborates Annabella Sciorra's testimony on Harvey Weinstein
Actress Rosie Perez testified at Harvey Weinstein's trial Friday, confirming that fellow screen star Annabella Sciorra told her in 1993 she was raped by the then-Hollywood mogul, AP reports.
The big picture: Sciorra recounted her sexual assault at the trial Thursday. Perez told the jury Sciorra called her multiple times about her experience and him harassing her.
---
Why it matters: Weinstein's lawyers argued Perez shouldn't be allowed to testify, but Judge James Burke decided to allow it.
When Sciorra called her the first time in 1993, Perez remembered saying, "He's the one that raped you," as they both started crying.
Perez asked her to got to the police. "I can't — he'd destroy me," Sciorra responded.
One of Weinstein's lawyers Damon Cheronis asked Perez why she didn't go to police herself, she responded "because I was being respectful."
What to watch: Weinstein's case will continue before a jury of seven men and five women. He could face a life sentence if convicted.
Go deeper: Global #MeToo movement has resulted in 6 convictions, 5 charges of influential figures
Fri, 24 Jan 2020 22:21:39 +0000
---
Trump's Space Force gets a new, recognizable logo
The Trump administration's new Space Force logo looks a lot like another space visual: the Star Trek insignia.
Why it matters: The United States Space Force was signed into law at the end of 2019 after President Trump directed the Pentagon to form a new branch of the military dedicated to keeping U.S. assets in space safe.
---
Between the lines: The Space Force logo is also a play on the Air Force Space Command's logo.
The big picture: Proponents of the Space Force say that the U.S. has fallen behind other nations that have put resources behind weaponizing space.
By standing up the Space Force, experts claim that it could help deter further weaponization of space and keep military assets safe in orbit.
Yes, but: Others say that a Space Force simply places undue emphasis on the militarization of space instead of focusing on keeping it a peaceful realm.
Fri, 24 Jan 2020 22:03:16 +0000
---
Clayton Christensen, father of "disruptive innovation," dies at 67
Clayton Christensen, best known for his 1997 business management book "The Innovator's Dilemma: When New Technologies Cause Great Firms to Fail," died of cancer treatment complications on Thursday at age 67, according to the Deseret News.
Why it matters: Christensen's theory of "disruptive innovation" has influenced generations of Silicon Valley entrepreneurs seeking to upend entire industries, making the word "disruption" part of startup zeitgeist.
Fri, 24 Jan 2020 20:08:44 +0000
---
Trump administration threatens to cut California health care funding over abortion law
The Trump administration on Friday issued a "notice of violation" to California, threatening to cut the state's federal health care funding if it continues to require that insurance plans cover abortion.
The big picture: The Department of Health and Human Services said the requirement violates a law that bans the federal government from giving funding to states or other entities that discriminate against health care providers that object to providing abortions.
---
Between the lines: The announcement was timed to coincide with President Trump's speech before anti-abortion activists at the March for Life rally, per AP. Trump is the first sitting president to speak at the event.
"Religious conservatives are a core element of Trump's political coalition, and his administration has gone out of its way to deliver on their demands," AP writes.
What they're saying:
"No one in America should be forced to pay for or cover other people's abortions [...] We are putting California on notice that it must stop forcing people of good will to subsidize the taking of human life, not only because it's the moral thing to do, but because it's the law."
Roger Severino, director of Health and Human Services' Office of Civil Rights, in a news release
"Women's health should never be dangled as bait for the sake of political grandstanding. Today, Donald Trump is using the official levers of government to advance his political agenda. Sound familiar? In California, we will continue to protect our families' access to healthcare, including women's constitutional right to abortion. Nothing changes."
California Attorney General Xavier Becerra, in a
news release
Go deeper ... Where abortion restrictions stand: The states that have passed laws
Fri, 24 Jan 2020 19:17:29 +0000
---
Israel's Benny Gantz considers turning down Trump's White House invite for peace plan meeting
Benny Gantz, the leader of Israel's Blue and White party and the main political opponent to Israeli Prime Minister Benjamin Netanyahu, is considering turning down President Trump's invitation to come to Washington next week to discuss the U.S. Israeli-Palestinian peace plan.
The big picture: Blue and White officials tell me Gantz and his aides are concerned the invitation to Washington is a political trap orchestrated by Netanyahu a little more than a month before the country's elections on March 2.
---
Gantz met this morning with his party leadership to discuss whether he should reject Trump's invitation.
The officials added that there was great concern in the meeting that going to Washington could do more harm than good and leave Gantz humiliated politically.
The state of play: Gantz was upset by the Vice President Pence's statement Thursday that said the White House was acting according to Netanyahu's recommendations when it invited him to Washington, according to the officials.
Gantz and his aides were also unhappy with the White House statement which said Trump invited Netanyahu "to the White House" while merely inviting Gantz "to Washington."
That's led to fears among Blue and White officials that Netanyahu would get a meeting with Trump —and a big ceremony around the peace plan — while Gantz would get a lower-level meeting that would make him look "like a second fiddle."
Why it matters: Gantz is stuck between a rock and a hard place with his decision.
Accepting the invitation and coming to Washington when the main talks will be between Trump and Netanyahu could portray him as a fifth wheel — or worse, a cheerleader for Netanyahu's foreign policy.
Rejecting the invitation could insult Trump, inciting retaliation from the president, and portray Gantz as a politician who can't handle the relationship with Israel's most important ally.
What he's saying: Gantz spoke today with U.S. Ambassador to Israel David Friedman and told him that — although he generally supports the peace plan and will welcome it publicly once it is presented — he thinks the going to Washington on an uneven basis with Netanyahu could harm him in the elections.
According to sources briefed on the call, Friedman told Gantz that there was no political motivation behind the White House actions and that he will most likely will get a meeting with Trump.
What's next: Blue and White officials said they want to hear more details from the White House about the plan for the visit before they make a final decision.
Gantz is expected to give a statement Saturday to announce both his decision and his position on Trump's peace plan.
Go deeper: Gantz changes course, calls on Trump to release Middle East peace plan
Fri, 24 Jan 2020 15:48:33 +0000
---
Goldman Sachs' baby step in the right direction on board diversity
Goldman Sachs announced Thursday that it won't help take European and North American companies public unless they have at least one "diverse" board director, effective July 1.
The big picture: In general, this is a positive development. Board diversity has been shown to improve company performance, per numerous academic studies, and far too many issuers continue to rely on bogus "pipeline" or meritocracy excuses for their boardroom homogeny.
---
A bank spokesperson confirms to Axios that "diverse" means anyone who isn't a straight, white male.
And a quick grammatical nit: "Diverse" shouldn't be used to describe an individual. A group can be diverse, but one person cannot.
What they're saying: Goldman CEO David Solomon said on TV yesterday that around 60 companies in the past two years have gone public with all-white, all-male boards. He didn't address the sexual orientation piece in there, and I'm unsure as to how Goldman plans to handle it.
If Goldman can help make a difference in the right direction, even a small one, then good on them.
Yes, but: Don't pat Goldman too hard on the back.
All California-based public companies already are required by state law to have at least one woman director by year-end.
Goldman did not reach out to other major investment banks ahead of this announcement, trying to get their buy-in. Doing so would have significantly furthered its stated objective, and felt like less of a PR push.
The state of play: This new policy will apply to both IPOs and direct listings in which Goldman is a participant (i.e., Goldman needn't be lead left manager). It's unclear if it also will apply to Goldman's private capital fundraising practice, or how the firm will handle Asia, Africa, and South American issuers.
I did a quick review of on-file IPO issuers with Goldman on their books, and didn't find one that would run afoul of the diversity mandate. This includes Jamf Software, which Bloomberg reports just filed confidentially with Goldman as lead.
The bottom line is that Goldman has done something virtuous, and also that it could have done something even better. Perhaps by not building a Wall Street coalition, it will cause rivals like Morgan Stanley and J.P. Morgan to raise the ante. If so, everyone wins.
Go deeper: 63% of directors say investors pay too much attention to corporate board gender diversity
Fri, 24 Jan 2020 15:07:19 +0000
---
Growth slowed for local economies virtually everywhere in the U.S.
Data:
Yelp
; Chart: Andrew Witherspoon/Axios
Growth slowed for local economies virtually everywhere in the U.S. last year, and is declining again at the start of this year as consumers pare back spending and business growth stalls.
What they're saying: So says business directory service Yelp, which used data from its more than 100 million users to track the number of businesses opening or closing and consumer demand.
---
What's happening: The Yelp Economic Average had its largest quarter-over-quarter decline in a year in Q4, "fueled by slumps in retail and services businesses."
The fourth quarter of 2019 marked the fifth straight quarter the measure has shown a level of economic strength weaker than in 2016, when the metric debuted.
Why it matters: "Yelp has information not only on millions of U.S. brick-and-mortar businesses but on the consumer demand expressed by the millions of consumers who view, review, and post photos of businesses on Yelp every day," the company said in a release accompanying the analysis.
Yelp says its data is able to more quickly identify trends found in GDP, retail sales, purchasing managers indexes and other economic reports released by the government and large private companies.
Yes, but: Yelp's data does not track online shopping or purchases, which is an increasingly important segment of the U.S. and global economy.
The big picture: If Yelp's data is correct, it shows economic prospects are deteriorating for brick-and-mortar businesses of all kinds.
Even among the strongest major metro areas in Yelp's report, eight of the top 10 show declining growth year over year.
Retail, food and automotive businesses almost across the board fared poorly, with stores selling mobile phones, shoes and appliances seeing the worst losses.
Food and nightlife businesses had declining business in every state except Wyoming, Nevada, the Dakotas and Vermont.
Watch this space: Large states and metropolitan areas like California, Texas, Florida, New York City, Chicago and Seattle saw some of the worst scores.
P.S. You can see Yelp's methodology for calculating the economic average here.
Go deeper:
Fri, 24 Jan 2020 13:04:42 +0000
---
Big Pharma's bottom line is leaving the world vulnerable to pandemics
Drug companies don't have much financial incentive to invest research and development dollars into new vaccines and antibiotics, leaving the world vulnerable to future pandemics.
Between the lines: The best-case scenario for these kinds of drugs is that they're lightly or never used. That doesn't sound very good to companies when their R&D dollars could alternatively go to diseases like cancer, which are much more likely to turn a sizable profit.
---
"The possibility for blockbuster sales motivates large drugmakers; little else moves the needle. The revenue potential for many infectious disease drugs is likely to remain limited, so other serious incentives are required," Bloomberg Opinion's Max Nisen writes.
Driving the news: The coronavirus, obviously, and the fact that it's revealed once again how unprepared the world is for a global pandemic.
By the numbers: 20 drug companies spent more than $2 billion on R&D over the last year, but only four of them have major vaccine units, per Bloomberg Opinion. Some drug companies have also stepped away from antibiotic development.
Yes, but: Some drug companies are rushing to develop vaccines to protect against the new virus, WSJ reports.
They include Moderna, Inovio Pharmaceuticals and Novavax Inc., as well as researchers at the University of Queensland in Australia.
The vaccines could be ready for human testing in a few months, but approval would take longer.
Go deeper: Dwindling antibiotics undermine fight against drug-resistant infections, WHO warns
Fri, 24 Jan 2020 11:30:47 +0000
---
Climate change has become a lightning rod for businesses
Climate change has, quite suddenly, become a lightning rod for business and finance leaders around the world.
Driving the news: Climate generated the highest degree of public pressure on corporations by activists, policymakers and journalists last year, according to data analyzed by consultancy High Lantern Group and provided exclusively to Axios. The topic's mention rose 77% over 2018.
---
How it works: This is the survey's second year and includes analysis of more than six million tweets.
Of course, Twitter is not the only barometer of influence, but Rob Gluck, the group's managing partner, says, "The vast majority of relevant public actors are using that platform to communicate."
The big picture: The survey comes amid an intensifying backdrop. In recent months, the world's foremost economic institutions have advocated for policies cutting greenhouse gas emissions. This trend is driven by a confluence of factors, including more extreme weather and greater public pressure.
The institutions include the International Monetary Fund, Bank for International Settlements, Organization for Economic Co-operation and Development and major central banks.
And the official agenda at the World Economic forum this week is dedicated entirely to climate change.
What they're saying: The BIS — known as the central bank for central banks — warned Monday in a research paper that climate change could cause "potentially extremely financially disruptive events that could be behind the next systemic financial crisis."
"This complex collective action problem requires coordinating actions among many players including governments, the private sector, civil society and the international community."
IMF head Kristalina Georgieva said in a speech last week that the Fund "ought to begin to build standards for disclosure of climate risks," including "mandatory disclosure standards."
The intrigue: Finance and economics-focused groups have increasingly been pushing governments to implement carbon taxes, an approach championed last year by every living former chair of the Federal Reserve and dozens of former chairmen of the Council of Economic Advisers and Nobel Laureate economists.
But, but, but: All this rhetoric should be scrutinized carefully and often. Talking about supporting policies addressing climate change is quite different from actually doing something about it. Rhetoric often outpaces action on this topic, partly because it's a slow-moving issue: Goals are made 10-30 years out.
For example, although JPMorgan CEO Jamie Dimon said Wednesday he would advocate for such a policy, his company is not a member of groups supporting it, including the Washington-based Climate Leadership Council and its lobbying arm Americans for Carbon Dividends.
A JPMorgan spokesman declined to comment further.
What we're watching: What kinds of substantive action we will see — if we see any at all — in the coming months following these pronouncements made at Davos and elsewhere.
Fri, 24 Jan 2020 10:46:28 +0000
---
Page created: Sat, Jan 25, 2020 - 09:05 PM GMT