Axios
https://www.axios.com/top/
Axios
https://api.axios.com/feed/top
---
House Judiciary pushes impeachment vote to Friday after marathon hearing
After a grueling 14-plus-hour day debating the two articles of impeachment against President Trump with no meaningful outcome, House Judiciary Chairman Jerry Nadler abruptly called a recess at 11:12 p.m. ET Thursday.
What's next: Members of the committee, their staffs and congressional reporters will return to the Hill at 10 a.m. Friday for a final committee vote to determine whether Trump abused his power and obstructed congressional authority.
---
Behind the scenes: Republicans were not originally planning to drag the hearing on until nearly midnight. But once they realized they were going to miss Thursday's White House Congressional Ball, they powered on and reframed their messaging to convey they were willing to work overtime to defend the president, sources familiar with their strategy tell Axios.
GOP members were infuriated when, seemingly approaching the end of the hearing, Nadler announced he was recessing the committee until Friday morning.
Ranking member Doug Collins shot out of his chair and accused Nadler of postponing the vote so it would receive better media coverage.
"The chairman just ambushed the entire committee," Collins yelled. "Crap like this, this is why people have such a terrible view of Congress."
Nadler, however, said he was calling the break because it had been "a long two days of consideration of these articles, and it is now very late at night." His staff told reporters that he had no idea how many more amendments Republicans were planning to call.
Amendments to the articles: After several hours of debate about altering the articles, each of the five amendments introduced by Republicans was voted down by the committee.
The only change that passed via a verbal vote in the committee was the substitution of "Donald John Trump" instead of "Donald J. Trump."
Inside the hearing room: Members began the day energized and ready for battle. But as the hours wore on, and evening holiday parties passed, their patience wore thinner and their exhaustion became visibly overwhelming.
At 9 p.m. ET Thursday, more than 12 hours after the chairman gaveled in the second day of the impeachment markup, Nadler finally called a 30-minute recess, the first break in the day apart from a midday pause for House votes.
Tired members and staff flowed out of the room to quickly scarf down pizza (for the GOP members) and BBQ (for the Democrats), while reporters huddled in the halls eating late-night snacks (tacos for the TV reporters).
Go deeper: Read the articles of impeachment against Trump
Fri, 13 Dec 2019 05:07:27 +0000
---
India's citizenship bill continues Modi's Hindu nationalist offensive
India's parliament passed a bill this week that would link citizenship to religion for the first time in the country's history.
Why it matters: This is the latest in a series of steps by Prime Minister Narendra Modi that could "fuel the sentiment that Muslims are a kind of permanent underclass," says Milan Vaishnav of the Carnegie Endowment. "The damage that could do to the social fabric is potentially enormous."
---
The ruling Bharatiya Janata Party (BJP) says the bill, which will become law once signed by India's president but already faces a court challenge, is designed to protect religious minorities.
It would make Hindus, Buddhists, Christians, Jains, Parsis and Sikhs who arrived from Bangladesh, Pakistan and Afghanistan before 2015 eligible for citizenship after six years.
Muslims were excluded, officially because they are not religious minorities in those countries.
Between the lines: The bill is linked to a deeply controversial effort to register all citizens in the northeastern state of Assam. The government has vowed to nationalize the citizenship register.
A lack of paperwork and haphazard legal proceedings have plunged many of those attempting to prove citizenship into a Kafkaesque nightmare.
The register was targeted at Muslims who came from Bangladesh, but some of the 1.9 million people left in limbo are actually Hindu.
While hundreds of thousands of Muslims may become stateless, Hindus and others could be fast-tracked for citizenship under the new law.
Zoom out: Modi's critics say he's undermining the secular principles on which the Indian state was founded 70 years ago.
But his supporters believe that framework always masked what India truly was: a great Hindu civilization. Four-in-five Indians are Hindu, while 15% are Muslim.
"You can easily mobilize on that resentment: 'Wait a minute, we're a majority in this country and we've been living like we're afraid of wearing our identity on our sleeve. We don't have to do that anymore,'" Vaishnav says.
The big picture: "The BJP has for a long time been powered by three principle objectives," Vaishnav says. They include modernizing the economy, making India a leading global power, and redefining India's social contract in a more "pro-Hindu" fashion, he says.
Modi prioritized the first two in his first term. Having been returned to power in May with a thumping majority despite a mixed economic record, Modi has made a sharp pivot to social issues.
The most dramatic step up to now was the revocation of the special constitutional status for India's only Muslim-majority state, Jammu and Kashmir, which was placed under a prolonged lockdown.
The bottom line: "The economy is in a tailspin," Vaishnav says. "Instead of addressing that with the urgency it deserves, they're lighting all of these other fires that are going to be hugely distracting and detrimental to the larger objective of 'making India great again.'"
The latest: Violent mobs set buildings and rail stations alight and clashed with police on Thursday in Assam, leaving at least two dead. Authorities cut internet and mobile service and imposed a curfew. The demonstrators worry the new law will flood the state with immigrants and change the local culture.
Go deeper:
Fri, 13 Dec 2019 00:34:43 +0000
---
U.S. and China reach limited deal to delay December tariffs
U.S. and Chinese trade negotiators have reached an agreement to reduce existing tariffs on $360 billion of Chinese goods and delay a new round of tariffs scheduled to go into effect on Dec. 15, according to multiple reports.
Why it matters: Sunday's tariffs on $160 billion of Chinese imports would have directly affected consumer goods such as cell phones, laptops, video game consoles and toys. In return for the tariff reductions and delay, China has reportedly agreed to buy $50 billion worth of agricultural goods.
---
The big picture: The 17-month U.S.-China trade war has lacked significant breakthroughs, causing major market uncertainty and hammering the U.S. manufacturing industry. Recent data, however, has shown China's economy is also taking a hit, giving Beijing extra incentive to strike a deal that would delay the December tariffs.
Between the lines: Optimism for a trade war reprieve was low in the wake of Trump's suggestion earlier this month that he "liked the idea" of waiting until after the 2020 election to strike a deal with China.
A source close to Trump's negotiating team also told Axios' Jonathan Swan that the China deal had been stalled as a result of legislation from Congress expressing support for anti-government protestors in Hong Kong, which infuriated Beijing.
Go deeper: The trade war is working — kind of
Thu, 12 Dec 2019 23:40:56 +0000
---
Axios Dashboard
Keep up with breaking news throughout the day — sign up for our alerts.
Thu, 12 Dec 2019 23:00:18 +0000
---
U.K. election: Exit poll shows landslide win for Boris Johnson's Conservatives
Polls have closed in the U.K.'s general election and Prime Minister Boris Johnson is on track for the parliamentary majority he has desperately sought to "get Brexit done."
Why it matters: Johnson is far exceeding expectations and should win enough seats to easily pass his Brexit deal. The BBC's exit poll projects the biggest Conservative majority since Prime Minister Margaret Thatcher's 1987 victory, and a disaster for the opposition Labour Party and its leader, Jeremy Corbyn.
---
By the numbers, per the poll:
Conservatives: 368 seats (+50)
Labour: 191 (-71)
Scottish National Party (SNP): 55 (+20)
Liberal Democrats: 13 (+1)
Brexit: 0
Between the lines: After 3 years of division over Brexit, Johnson appears to have united the "Leave" vote behind him while the "Remain" vote was divided between Labour — which lacked a clear position on Brexit — and the anti-Brexit Liberal Democrats.
What to watch: This result would be a massive vindication for Johnson — long mocked and little trusted, but now set to steer the U.K. through what should be a crucial five years for the country.
The success of the pro-independence SNP in Scotland could have big implications for the future of the union.
Corbyn's position will likely now become untenable. His allies will seek to keep control of the party within its leftist flank, but they'll face strong opposition.
Thu, 12 Dec 2019 22:16:11 +0000
---
Kentucky governor restores voting rights for 100,000 nonviolent felons
Kentucky Gov. Andy Beshear (D) signed an order on Thursday restoring voting rights to more than 100,000 people with nonviolent felony convictions, the Wall Street Journal reports.
By taking this step, by restoring these voting rights, we declare that everyone counts in Kentucky. We all matter."
Gov. Andy Beshear
---
Why it matters: Iowa is now the only state in the country with a lifetime ban on voting for anyone convicted of a felony. Convicted felons in Kentucky previously had to seek clemency from the governor on an individual basis.
The League of Women Voters of Kentucky issued a report in January that some 312,000 people feel disenfranchised because of felony convictions. 
Between the lines: Beshear appears to be following in his father's footsteps, former Gov. Steve Beshear (D), who signed an executive order just before leaving office in 2015 to restore voting rights to more than 100,00 convicted felons.
That order would've applied to those who'd "completed their sentences and paid all of their court-ordered restitution," but his successor, former Gov. Matt Bevin (R), suspended the order days after taking office, per the Lexington Herald-Leader.
What he's saying: Kentucky's new governor explained his decision during his inaugural address, saying his faith "teaches me to treat others with dignity and respect."
"My faith also teaches me forgiveness," he said. "That's why on Thursday I will sign an executive order restoring voting rights to over 100,000 men and women who have done wrong in the past but are doing right now. They deserve to participate in our great democracy."
The big picture: Beshear, who previously served as Kentucky's attorney general, was sworn in Tuesday after narrowly defeating Bevin in the state's gubernatorial election last month.
Go deeper:
Thu, 12 Dec 2019 22:13:40 +0000
---
Tech eases donations, tip and gift transactions
Wishing your friends a happy birthday on social media now comes with a side of guilt.
Why it matters: "Tech is making it easier to stick a virtual hand out ... for tips and gifts you might not have planned to give," reports USA Today's Edward C. Baig.
---
On Facebook, more birthday humans are soliciting donations for their charities of choice.
Doing nothing comes with a pang of guilt: "It seems odd to transform birthday greetings into a transactional event," one Facebook user told Baig.
This guilt trap carries over into the physical world, Baig notes.
New point-of-sale tech has created the moment when a barista swivels an iPad around and gives you the option of tipping 18%, 20% or 25%.
Now you have to make a quick decision on whether you want to tip as the barista and the person behind you in line stare you down.
The big picture: Facebook is leaning into the giving aspect of its platform, Axios' Erica Pandey reports.
The site has nixed transaction fees on donations and established a $50 million fund to match gifts.
In the first year that Facebook added the feature, users raised more than $300 million.
Between the lines: It's getting increasingly easy to spend money on social media platforms.
The platforms are getting smarter about targeted ads and adding functions that let you shop without even leaving the app.
The bottom line: There are far worse ways to spend your pocket change than charitable gifts and tips.
Go deeper:
Thu, 12 Dec 2019 22:03:54 +0000
---
Congress reaches tentative spending deal to stave off government shutdown
Democratic and Republican negotiators in the House and Senate reached a deal "in principle" to fund the federal government through the rest of the 2020 fiscal year, House Appropriations Chair Nita Lowey (D-N.Y.) confirmed Thursday.
Why it matters: A looming Dec. 20 funding deadline had lawmakers fearing another government shutdown, which would come into effect days after the House is set to vote on articles of impeachment. Details of the $1.3 trillion spending deal are still being hammered out, but a vote in the House is expected to be scheduled for Tuesday.
Thu, 12 Dec 2019 21:02:08 +0000
---
52nd person reported dead from vaping-related lung illness
52 people have died from a lung injury associated with e-cigarette use in 26 states and the District of Columbia, the Centers for Disease Control and Prevention newly reports.
What's new: Data as of Dec. 10 shows the median age of patients who died was 52 years old and the ages of those who died ranged from 17 to 75.
---
By the numbers: Among 19 patients who died, 84% reported use of THC-containing products, according to a report from late October. The CDC maintains no single e-cigarette product or compound has been linked to the pulmonary illnesses.
37% of the 19 who died reported use of nicotine-containing products.
63% reported exclusive use of THC-containing products.
16% reported exclusive use of nicotine-containing products.
The impact: The CDC and states' individual health departments have data on where the deaths occurred.
The big picture: The CDC reported 2,409 confirmed hospital cases of severe respiratory illnesses as of Dec. 10 among those who vaped nicotine or cannabis products in 50 states, Washington, D.C., and two U.S. territories.
The rate of reported cases each week has slowed considerably since August.
What they're saying: "It is possible that some of these cases were already occurring and we were not picking them up" prior to the agency's investigation into the illnesses, the director for the FDA Center for Tobacco Products, Mitch Zeller, said in August.
Of note: A woman filed the first wrongful death lawsuit against Juul in October, claiming the e-cigarette maker's nicotine cartridges were a significant factor in causing the death of her 18-year-old son over a year ago.
Go deeper:
Thu, 12 Dec 2019 20:33:30 +0000
---
Senate passes Armenian genocide resolution in move likely to infuriate Turkey
The Senate passed a resolution via unanimous consent Thursday formally recognizing Turkey's genocide of the Armenian people.
Why it matters: The previous three attempts by Sens. Bob Menendez (D-N.J.) and Ted Cruz (R-Texas) to pass the resolution were blocked by Republican senators at the request of the White House, which feared that its passage would infuriate the Turkish government during a tense period of U.S.-Turkey relations.
---
Sens. Lindsey Graham (R-S.C.), David Perdue (R-Ga.) and Kevin Cramer (R-N.D.) previously objected to the resolution, but indicated that they were not willing to do so again.
Mendendez, who has championed the cause since arriving in the Senate in 2006, became emotional on the Senate floor as he spoke following the passage of the resolution.
"By passing my Armenian Genocide resolution, the Senate finally stood up to confirm history: What happened from 1915 to 1923 was — most assuredly — genocide. There is no other word for it. There is no euphemism. There is no avoiding it. To overlook human suffering is not who we are as a people. It is not what we stand for as a nation. We are better than that, and our foreign policy should always reflect this."
Bob Menendez
The big picture: Turkey and its NATO allies, including the U.S., have clashed recently over Turkey's purchase of a Russian S-400 missile system, as well as its military assault against U.S.-allied Kurdish forces in northern Syria. Bipartisan senators have introduced a bill to implement sanctions against Turkey for its S-400 purchase.
What to watch: Turkish spokesperson Fahrettin Altun tweeted a warning in response to the resolution's passage, as well as the sanctions bill advanced by the Senate Foreign Relations Committee on Wednesday.
"The behavior of some members of the U.S. Congress is damaging the Turkish-American ties. The sanctions bill that passed yesterday in the Senate Foreign Relations Committee and the Armenian resolution that passed today in the Senate endanger the future of our bilateral relationship. ... History will note these resolutions as irresponsible and irrational actions by some members of the US Congress against Turkey. They will go down in history as the responsible party for causing a long lasting damage between two nations."
Go deeper: Sen. Cramer blocks Armenian genocide bill at request of White House
Thu, 12 Dec 2019 19:45:07 +0000
---
Distrust of tech could be encryption's Achilles heel
A Senate Judiciary Committee hearing Tuesday set up what's likely to be the most consequential national debate on encryption since the 1990s.
The big picture: The technical community's long-held consensus against weakening encryption is colliding head-on with bipartisan political hostility toward the Big Tech companies that are making encrypted communications an internet default.
---
Key terms to know: Law enforcement agencies see the spread of encryption as a problem they call "going dark." Most security experts view modifying encryption schemes to give government access as the creation of "back doors" that they see as inherently treacherous.
On one side: Lawmakers and law enforcement advocates argue that the end-to-end encryption that's increasingly built into messaging platforms and mobile devices is unacceptably hampering efforts to combat terrorism, human trafficking and child abuse.
On the other: Tech companies and privacy advocates maintain that weakening encryption for law enforcement needs also inevitably opens vulnerabilities that bad actors can exploit — including foreign governments, criminal hackers and legal authorities overstepping their bounds.
Driving the news: Senators from both sides of the aisle lit into representatives of Apple and Facebook at the Tuesday hearing, telling the companies that if they don't voluntarily find a way for the government to access the data it seeks to stop crimes, Congress will legislate one.
New York District Attorney Cyrus Vance Jr. testified that Apple's decision to begin encrypting iPhone content by default in 2014 "effectively upended centuries of American jurisprudence holding that nobody's property is beyond reach of a court order."
Erik Neuenschwander, Apple's manager for user privacy, told the senators that Apple has never held keys that let it access users' data, and it opposes efforts to require it to do so: "We've been unable to identify any way to create back doors that would only work for the good guys. They will be exploited by nefarious entities as well."
Jay Sullivan, product management director for privacy and integrity at Facebook Messenger, argued that if the U.S. mandates weakened encryption for U.S.-based services, customers will simply switch to services offered by companies abroad that will be less responsive to American authorities.
Meanwhile, Attorney General William Barr has been pursuing his own campaign, launched with a speech last summer, promoting the need for back doors to encrypted devices and communications.
In October, Barr, along with officials from DHS and European and Australian law enforcement, sent Facebook a letter requesting the company adopt such a scheme for WhatsApp and Messenger. Monday, the company responded "no."
History lesson: The U.S. government's one significant attempt at the creation of encryption back doors — the Clinton administration's Clipper Chip program, which lasted from 1993 to 1996 — was a technical and market failure.
Each Clipper Chip had its own key that private companies held in "escrow" to hand over under government order. But the scheme wasn't mandatory, experts hated it and the industry never embraced it.
That '90s fight took place right as the formerly academic internet went mainstream, and it pitted "crypto rebels" against a government establishment, with the telecom industry caught in between.
Today, the fight is instead between the government and a group of rich tech companies that have amassed vast power while facing a growing roster of controversies involving user privacy, failures to curb misinformation, monopolistic behavior, and accusations of bias.
Our thought bubble: We could end up with an encryption law for the 2020s that mandates some kind of updated Clipper Chip (likely via software rather than hardware) — not because anyone thinks it will work, but because lawmakers and voters of both parties have lost trust in the tech companies that oppose it.
Thu, 12 Dec 2019 16:28:11 +0000
---
DNC announces next four Democratic debates
The Democratic National Committee announced on Thursday the hosts of the next four presidential debates in the first four primary and caucus states.
Why it matters: This will be the first time Apple News will co-host a presidential debate.
---
The schedule:
Jan. 14: CNN will co-host the 7th Democratic debate with the Des Moines Register at Drake University.
Feb. 7: ABC will co-host the 8th Democratic debate in partnership with WMUR-TV (the local ABC affiliate serving New Hampshire) and Apple News at St. Anselm College in Manchester, New Hampshire.
Feb. 19: NBC News will co-host the 9th Democratic debate in Las Vegas with the Nevada Independent, a nonpartisan, nonprofit news and opinion website founded in 2017.
Feb. 25: CBS News will co-host the 10th Democratic debate with the Congressional Black Caucus Institute and in partnership with Twitter in Charleston, South Carolina at Gaillard Center.
What's next: The next Democratic debate will be held on Dec. 19 at Loyola Marymount University in Los Angeles, per Politico, which will host alongside PBS NewsHour.
Our thought bubble: It's worth noting that while Apple News and Twitter are featured as debate co-hosts, Facebook is noticeably absent after co-hosting debates in 2012 and 2016.
Go deeper: Who has qualified for the December Democratic debate
Thu, 12 Dec 2019 16:16:57 +0000
---
Europe's "Green Deal" shows the hard road to implementing 2020 Democrats' climate policies
Ursula von der Leyen, the new European Commission president, yesterday unveiled plans for an ambitious "European Green Deal" meant to make the EU a net-zero emitter by 2050.
Why it matters: The EU is the world's third-largest greenhouse gas emitting region after China and the U.S.
---
The big picture: The sweeping plan envisions crafting a new climate law within the next 100 days.
And it broadly proposed the outlines of ideas in areas like fuel tax policies, trade via "border carbon adjustments," a "just transition" for fossil-fuel dependent regions, and greatly expanded investment.
The intrigue: One of the documents released yesterday is a "roadmap" of "key actions" around policy development envisioned in the coming year — and it features dozens of them.
It covers everything from deepening the targeted 2030 emissions cuts to a June 2021 tax policy proposal to the creation of new strategies.
It envisions crafting new strategies for offshore wind, climate-friendly steel production, various mobility plans, the "just transition" fund, stronger biodiversity and forest efforts, a "farm to fork" policy, and on and on.
The state of play: This document is relevant to the U.S. and the 2020 elections.
I haven't had time to digest everything the EC dumped yesterday, but even taking it for a quick spin underscores the incredible time and labor it will take to accomplish.
Similarly, transforming Democratic White House candidates' plans into actual policymaking is a huge lift.
Put another way, even the somewhat detailed plans from Elizabeth Warren are, in essence, scribbles on a napkin that can obscure the painstaking work ahead if the U.S. ever hopes to implement an aggressive climate policy.
My thought bubble: I know this is kind of obvious, but it's worth mentioning because lots of attention is paid to candidates' sweeping targets (like net-zero by 2050) and aggregate spending levels (like Bernie Sanders' $16 trillion proposal).
But it's worth remembering that even successfully implementing a small fraction of these plans would be a long slog.
Go deeper:
Thu, 12 Dec 2019 14:45:41 +0000
---
The NHL is facing a cultural reckoning over diversity and abuse
The last month of the NHL season has brought changes behind the bench and in the broadcast booth that represent a cultural reckoning poised to change the sport of hockey forever.
Driving the news: Don Cherry, a longtime fixture on "Hockey Night in Canada," was fired by Rogers Sportsnet on Nov. 12 for on-air comments that many believed disparaged Canadian immigrants.
---
Nov. 20: The Toronto Maple Leafs fired head coach Mike Babcock because his team was underperforming, then things took an unexpected turn when former players accused him of abusive coaching tactics.
Nov. 29: Calgary Flames coach Bill Peters resigned after admitting to using a racial slur toward former NHL player Akim Aliu when they were in the AHL.
Dec. 3: The Chicago Blackhawks placed assistant coach Marc Crawford on administrative leave pending an investigation into allegations he kicked and choked former players.
The response: On Monday, the NHL released a four-point plan to address abuse that includes severe punishments for offenders, mandatory diversity and inclusion training for coaches/staff and a hotline to anonymously report incidents.
"The world is changing for the better. This is an opportunity, and a moment, for positive change and this evolution should be expedited — for the benefit of everyone associated with the game we love."
Gary Bettman, NHL commissioner
Reality check: If a true reckoning is coming to the rink, the NHL is not going to be the driving force behind it. That burden falls on the players, who must be brave enough to speak up, as well as the media, which will be called upon to provide more oversight.
"It's kind of like the #MeToo movement," Georges Laraque, a Haitian-Canadian who played 12 seasons in the NHL, told NYT.
"Akim had the courage to speak up about what happened to him because it's like, 'Maybe this is the time where players can express themselves and there's going to be justice.'"
The big picture: While all sports leagues — and all of society, for that matter — must navigate these same cultural shifts as the world evolves and younger generations enter the workforce, hockey's insular nature and selfless creed does present a unique challenge.
"[M]ost of the coaches are good people. [But] it's not a player-empowered league. It is very authoritative, dominant. Even the star players in hockey don't really have a voice," former NHL forward Sheldon Kennedy told SI.
On top of that, the best youth players often leave home as early as 12 years old to live with teammates and "surrogate families," according to the Chicago Tribune. It's not just a culture; it's a system. And it's a relatively small one, too, making it less likely that individuals stray from the pack.
Strong words:
"Hockey culture values teamwork, family, humility. But these ideals are warped. Teamwork; by valuing groupthink over individuality. ... Family; in insularity and othering anyone who's not in the group ... Humility; by players opting for saying nothing as opposed to saying the right thing."
The bottom line: Athletes known for silence are suddenly speaking up, and a sport known for domineering coaches is coming to terms with the fact that decades-old tactics are no longer acceptable.
Go deeper:
Thu, 12 Dec 2019 14:24:18 +0000
---
Asset managers urge caution in 2020
Investors can expect higher stock prices but also a lot of potential potholes in 2020, according to the investment forecasts of major asset managers.
What they're saying: "[I]n 2020 the margin for error — and opportunity — will likely be as small as it's been in a very long time," top strategists at State Street Global Advisors wrote in their 2020 outlook.
---
"We foresee ... a stock market that grinds higher, but downside risks are building," JPMorgan Asset Management's outlook said.
"We remain concerned about the risk/reward of the S&P 500 near term," noted UBS in its outlook.
"We expect a positive return for 2020, but muted," BlackRock's CIO of fundamental U.S. equities Tony DeSpirito said during a recent media briefing.
Threat level: Managers are predicting the U.S. will avoid a recession. But most say the biggest risk to that is the U.S.-China trade war, which could be ratcheted up at any second by a tweet from President Trump.
Outlooks also noted the risks of a recession in Europe, steadily declining U.S. profit margins, weakening global aggregate demand, a labor market slowdown, the 2020 U.S. presidential election, and the positive effects of the 2018 U.S. tax cuts fading.
The U.S. consumer was responsible for the lion's share of growth this year, as CEOs have lost confidence and corporations have pulled back and will need some help in 2020.
"Falling corporate profits, additional tariffs scheduled for mid-December and Fed rate cuts likely on hold for a little while may make it tough for the consumer to continue to shoulder this larger burden," State Street said in its outlook.
The big picture: None of these major asset managers predict a resolution to the trade war next year, but they almost uniformly expect a de-escalation. That will allow the U.S. economy to grow somewhere between 1.5% and 2% next year and continue to add jobs.
Such an environment is expected to support far-improved earnings growth near 10%.
It will have to, said Charles Schwab chief investment strategist Liz Ann Sonders. "The wide gap between stock market performance and corporate after-tax profits suggests the latter needs to accelerate."
Be smart: Few money managers gave an explicit S&P 500 target, but top strategists at John Hancock, Jeffries, Bank of America Securities and others predict the stock market rises only about 5% from its current level.
Goldman Sachs analysts were the bullish outliers, predicting the S&P rising to 3,400 by year-end and U.S. growth between 2.25% and 2.5%.
Even Macquarie, which projects U.S. stocks doubling in value by 2030, said they see the S&P only at 3,300 by year-end.
Go deeper:
Thu, 12 Dec 2019 13:55:29 +0000
---
Lindsey Graham: "The best thing we do is deep-six" the impeachment trial
Sen. Lindsey Graham (R-S.C.) told Axios: "I'm not in the camp of calling a bunch of witnesses [in President Trump's impeachment trial]. ... I think as an American, the best thing we do is deep-six this thing."
The big picture: Many Senate Republicans told Axios that they trust Majority Leader Mitch McConnell's judgment on whether to accelerate the vote to acquit the president.
---
"Senate Republicans are coalescing around a strategy of holding a short impeachment trial early next year that would include no witnesses," The Washington Post reports.
Why it matters: That "could clash with President Trump's desire to stage a public defense of his actions toward Ukraine that would include testimony the White House believes would damage its political rivals."
"Several GOP senators ... said it would be better to limit the trial and quickly vote to acquit Trump, rather than engage in what could become a political circus," per the Post.
"The emerging Senate GOP plan would provide sufficient time, possibly two weeks, for both the House impeachment managers and Trump's attorneys to make their arguments before a vote on the president's fate."
Go deeper:
Thu, 12 Dec 2019 13:37:49 +0000
---
As economy booms, Wall Street bonuses shrink
Brace yourself: New York city officials estimate the pool of money allocated to bonus payouts by Wall Street firms will shrink by at least 9% this year — to about $25 billion from the $27.5 billion doled out in 2018.
Why it matters: A surging stock market and low unemployment rate don't mean that bonuses in the securities industry will keep growing and growing.
---
Then there's the trickle-down effect: If you work at, say, Smith & Wollensky or a Connecticut Ferrari dealership, you could be in the same boat as the bankers.
Driving the news: Bonuses are typically handed out — or at least announced — this month through the beginning of next year.
The sums can be staggering: Some run to six or even seven figures, making up a third or more of an executive's annual compensation.
The big picture: The smaller payouts reflect harder times for the banking industry — which is being hit by low interest rates, trade wars, political incertitude, and volatile markets.
Wall Street executives have been mum about what's going on with bonuses — relative to years past — "because there is so much uncertainty about what might happen in overnight lending [markets] in late December, and the ripple effects it could have on other markets," Reuters reported this week.
Meanwhile, Morgan Stanley is reportedly firing more than 1,000 people — 2% of its workforce — an announcement that comes before year's end to "avoid paying out bonuses," CNBC reported.
The bank cited "an uncertain global economic outlook" as its reason, CNBC said.
It's the first of the big Wall Street firms to make such cuts, but more could follow.
Flashback: The current situation is a direct contrast to 10 years ago, when Wall Street bonuses were grandiose — despite an economy mired in recession (largely of the banks' making) and massive government bailouts of the financial services industry.
Since the financial crisis, people who traditionally made tons of money from the Wall Streeters spending their sky-high bonuses — like real estate agents, who reliably sold pricey Hamptons homes to the newly flush —have had to adjust to changing times.
One factor: More banks are opting for deferred forms of compensation — i.e. stock instead of cash.
And banks have taken steps to curb excessive pay, industry experts say — despite the fact that regulations proposed after the financial crisis that aimed to curb big bonuses (which were seen as tempting workers to take risks) never crossed the finish line.
What they're saying:
"The Wall Street bonus meant a lot to us before the financial crisis in 2008 — it was a barometer of how the market would would fare," Scott Durkin, COO of the real estate agency Douglas Elliman, tells Axios.
Of the first sign of declining bonuses, "we [real estate agents] all thought it was the end of the world."
By the numbers: The dwindling bonus pool has big implications for New York's budget.
"Love it or hate it, securities industry bonuses are a major part of compensation, and a source of city and state taxes," Thomas DiNapoli, New York State's Comptroller, told Axios in a statement.
"When bonuses decline, the shortfall can impact city and state revenue and limit funding available for government programs."
The average bonus paid to Wall Street employees in New York City was $153,700 in 2018 — a decline of 17% from the prior year, despite an upturn in the broader industry's profits. All in all, fewer dollars were spread among a larger number of people.
Johnson Associates, a compensation consultancy whose estimates are closely watched, says Wall Street could see bonuses fall as much as 4% this year.
But hedge funds payouts will remain the same, or could even increase as much as 5%.
Reality check: Wall Street bigwigs still take home wayyy more than the average person.
Per New York city data, the average compensation for a Wall Streeter was more than $422,000 in 2017, the latest data available. That's five times higher than what the average private-sector worker made.
Last year, bonuses alone were double the average salary of the rest of New York City's workforce.
Thu, 12 Dec 2019 10:45:48 +0000
---
The U.S. communities in danger of being overlooked in the 2020 census
Data: AP analysis of Census Bureau data; Map: Andrew Witherspoon/Axios
About a quarter of the U.S. population —and more than 8 in 10 residents of Detroit — live in areas likely to be difficult for the census to accurately count next year, according to census data analyzed by the Associated Press.
Why it matters: "Hard to count" often translates to underrepresentation. The 2020 census will be the basis for allocating political power and government funding for the next decade.
---
Unauthorized immigrant populations, large minority populations, non-traditional households, lots of young children, poverty and lack of internet access can all lead to undercounting.
The big picture: State legislatures will refer to the newest census data in redrawing congressional districts next year. The population counts will determine how many congressional seats each state will receive. The updated data will inform politicians of the demographics, economic status and family structures of the people they represent.
As the nation rapidly moves toward a minority white society, one study this year found that next year's census could see the worst undercount of black and Latinx people in 30 years.
Undercounting has long been an issue for racial and ethnic minorities, giving them and the issues their communities care about even less political weight.
By the numbers: In half of U.S. census tracts nationwide, more than 20% of the population is predicted to not respond to the initial census questionnaire.
86% of Detroit's population lives in hard-to-count areas — the highest of any city due to the tens of thousands of abandoned homes there, according to AP.
New Mexico (41%), California (40%), Texas (39%) and Nevada (37%) have the highest share of people living in areas with low census response rates.
These states have some of the fastest changing racial and ethnic makeups, and many have been a focus for both Democratic and GOP political campaigns.
The Trump campaign is trying to flip New Mexico in 2020.
Democrats are becoming more competitive in Texas, long a reliably Republican state.
Nevada has been a swing state and was only narrowly won by Hillary Clinton in 2016.
Between the lines: The 2020 census effort has been complicated by concerns about government underfunding, a failed effort by the Trump administration to add a question about citizenship to the questionnaire and technological concerns about answering questions digitally.
In a statement to Axios, a spokesperson for the U.S. Census Bureau said they are spending $500 million on marketing and advertising — up from $376 million in 2010.
"We've hired over 1,500 partnership specialists to work closely with local communities to ensure a complete and accurate count. Our partnership staff are hired locally from the communities we are encouraging to respond to the 2020 Census, especially the hard-to-count population."
States like California have allocated bigger budgets for efforts to engage with communities that have historically been undercounted.
Texas, Louisiana and Florida are among the states that have invested nothing in ensuring an accurate census count.
Despite hard-to-count concerns, Texas lawmakers have declined to pass bills to provide funding aimed at improving census response efforts. Nonprofits have stepped in, the Texas Tribune notes.
Thu, 12 Dec 2019 10:00:55 +0000
---
In photos: U.K. votes in election dominated by Brexit
Polls across the United Kingdom opened Thursday morning as millions of Brits vote in the country's third general election since 2015.
Why it matters: Prime Minister Boris Johnson has staked his leadership on a promise to "get Brexit done" by securing a majority in the election, after facing a parliamentary impasse on the issue in a minority government. But if he loses, he'll go down as one of the shortest-serving prime ministers in history.
---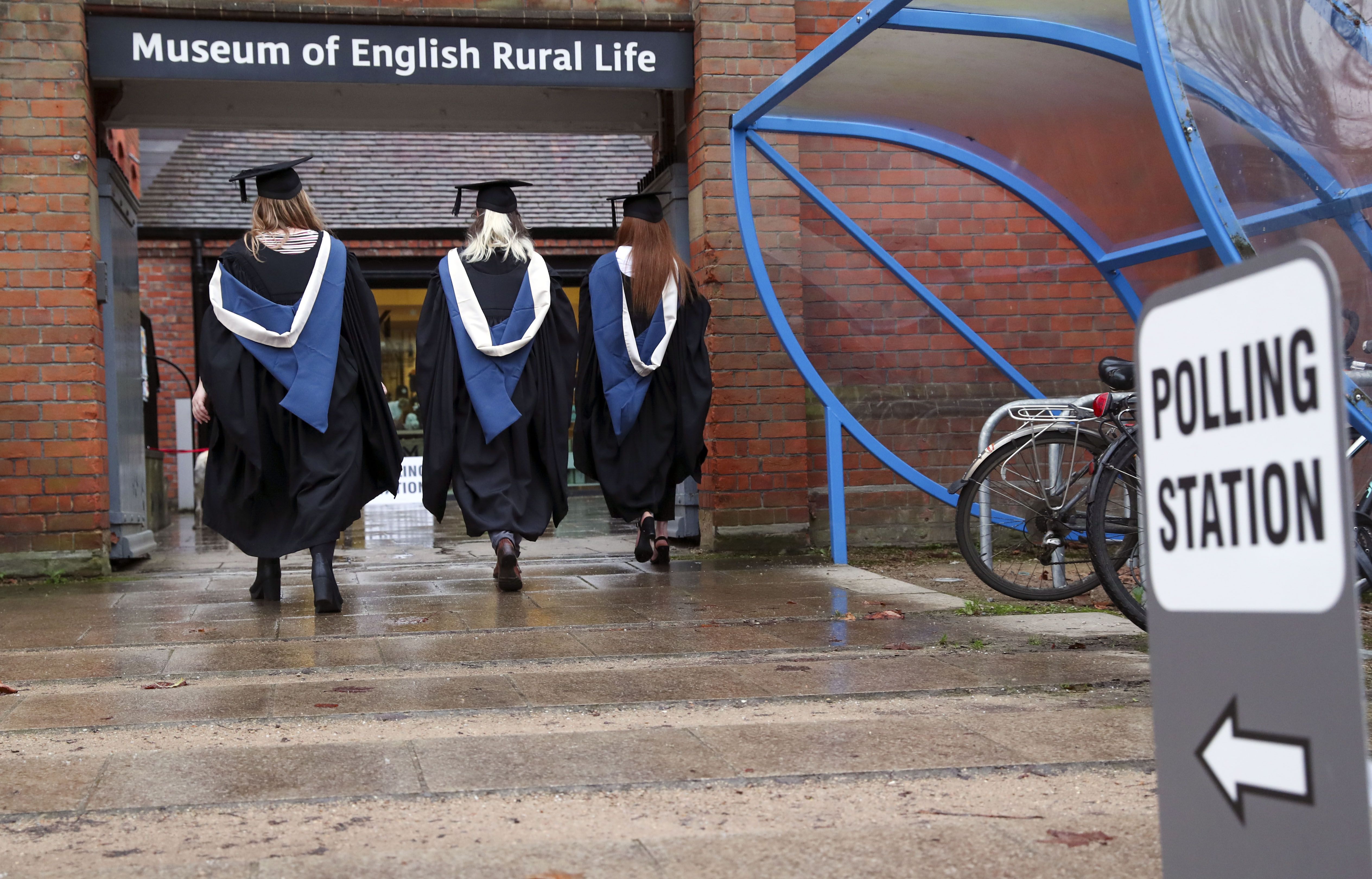 Students from the University of Reading arrive to vote in the General Election 2019 on graduation day. Photo: Steve Parsons/PA Images via Getty Images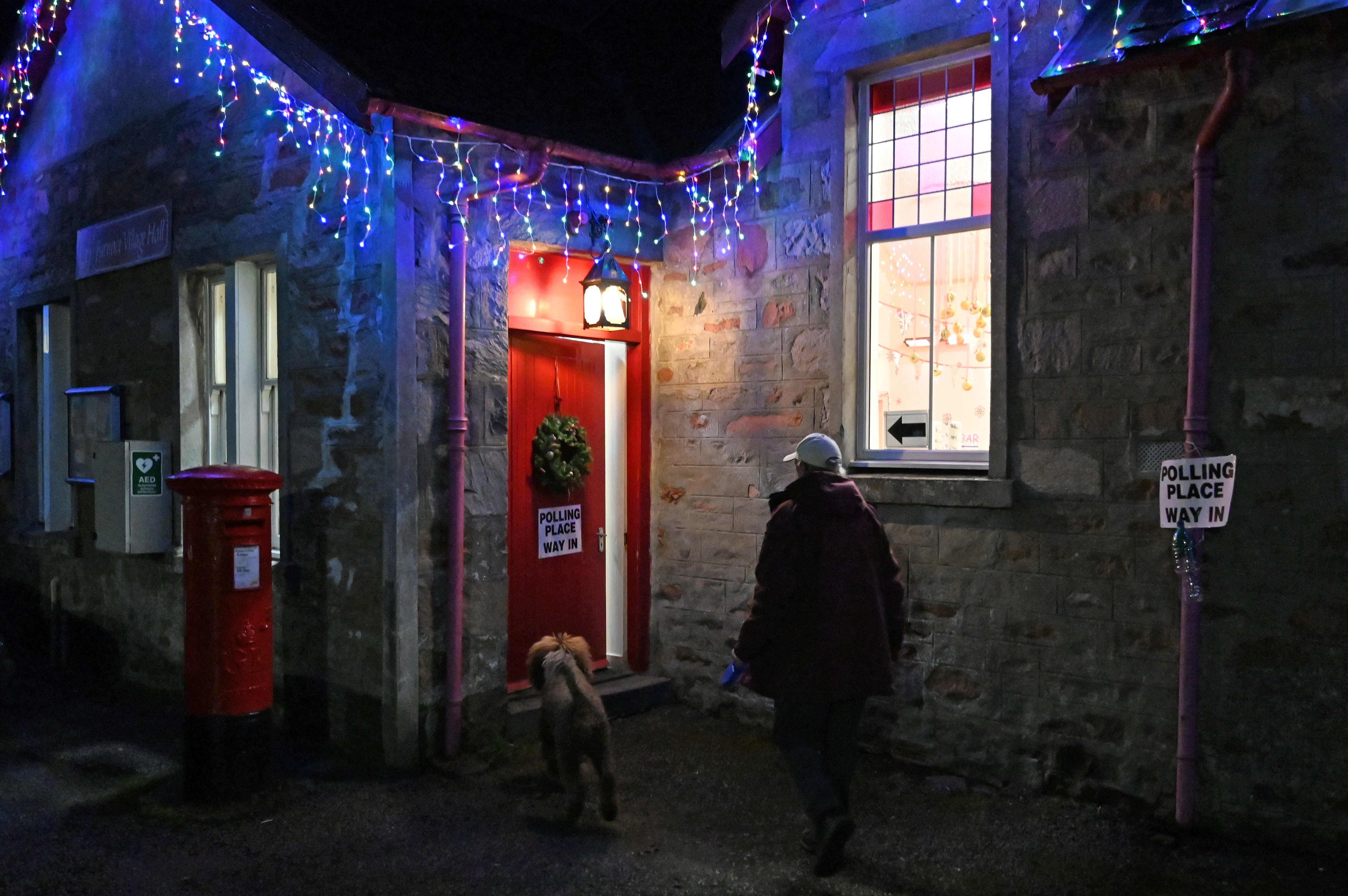 A man arrives to vote at a polling station in Furnace, near Inveraray, Scotland. Photo: Paul Ellis/AFP via Getty Images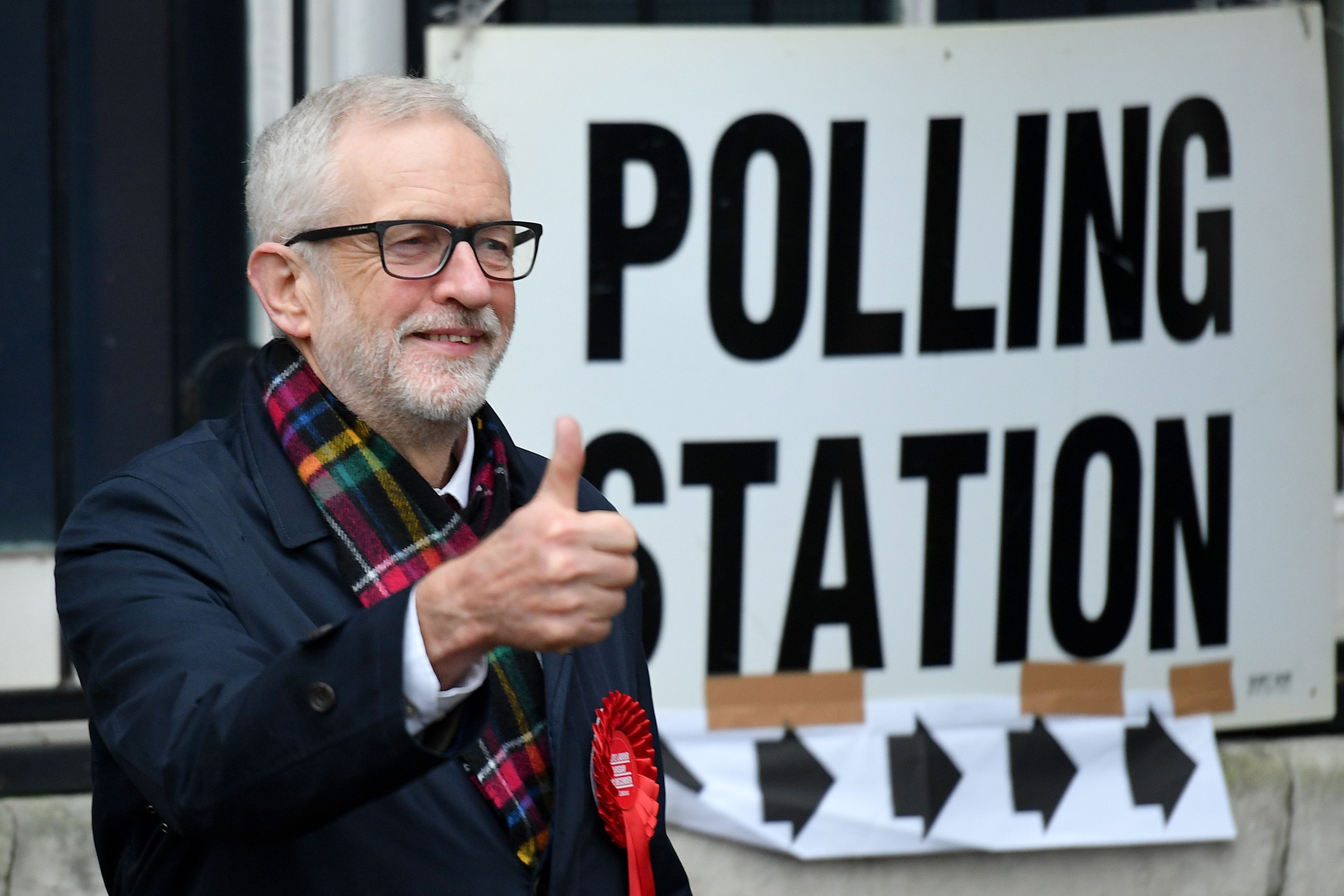 Labour Party leader Jeremy Corbyn arrives to vote in north London. Photo: Daniel Leal-Olivas/AFP via Getty Images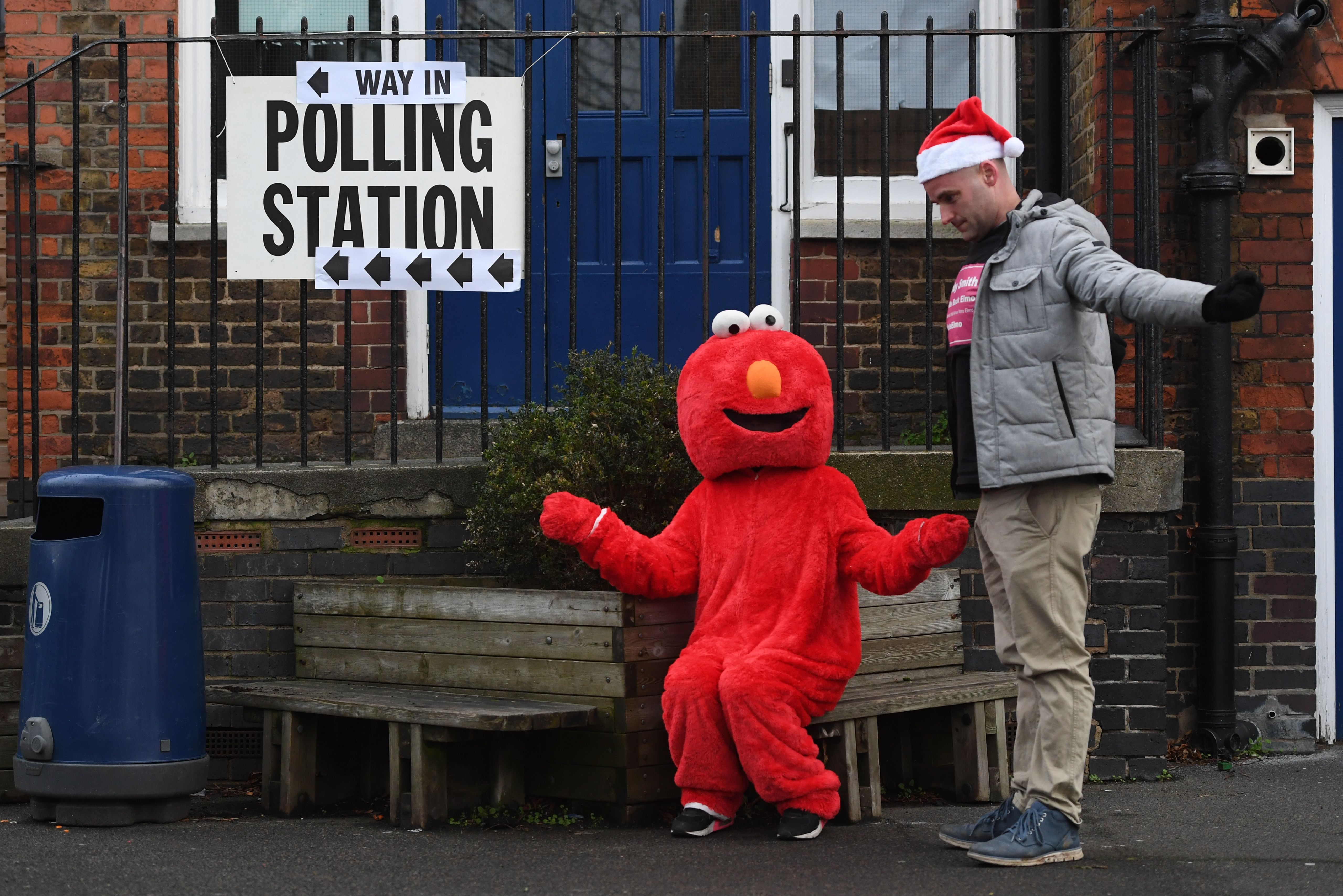 A man in a Santa Claus hat and a man in an Elmo costume outside the polling station at Pakeman Primary School in Islington, London. Photo: Joe Giddens/PA Images via Getty Images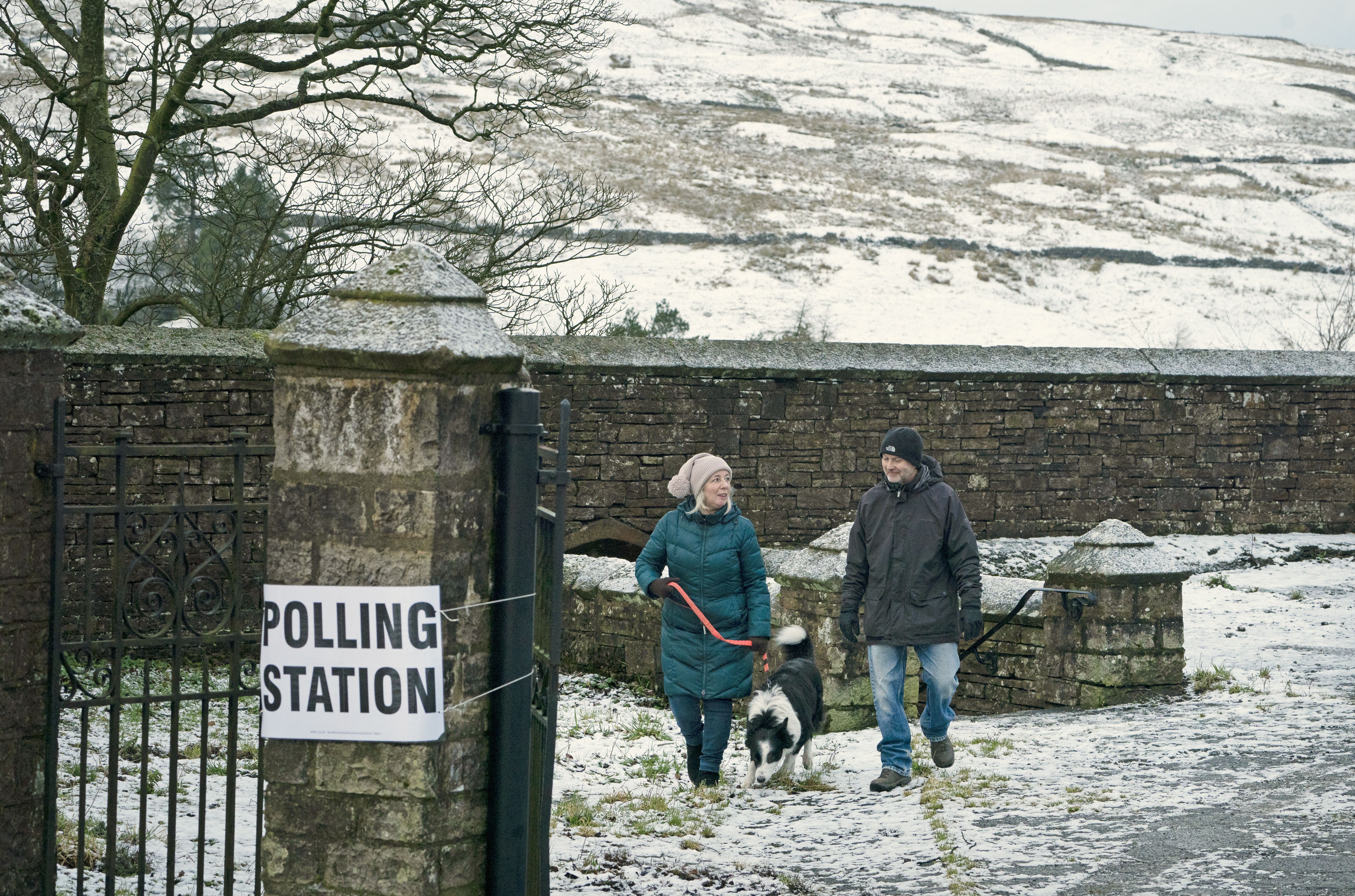 Voters outside the polling station in Nenthead, on the Cumbria and Northumberland border in northern England. Photo: Owen Humphreys/PA Images via Getty Images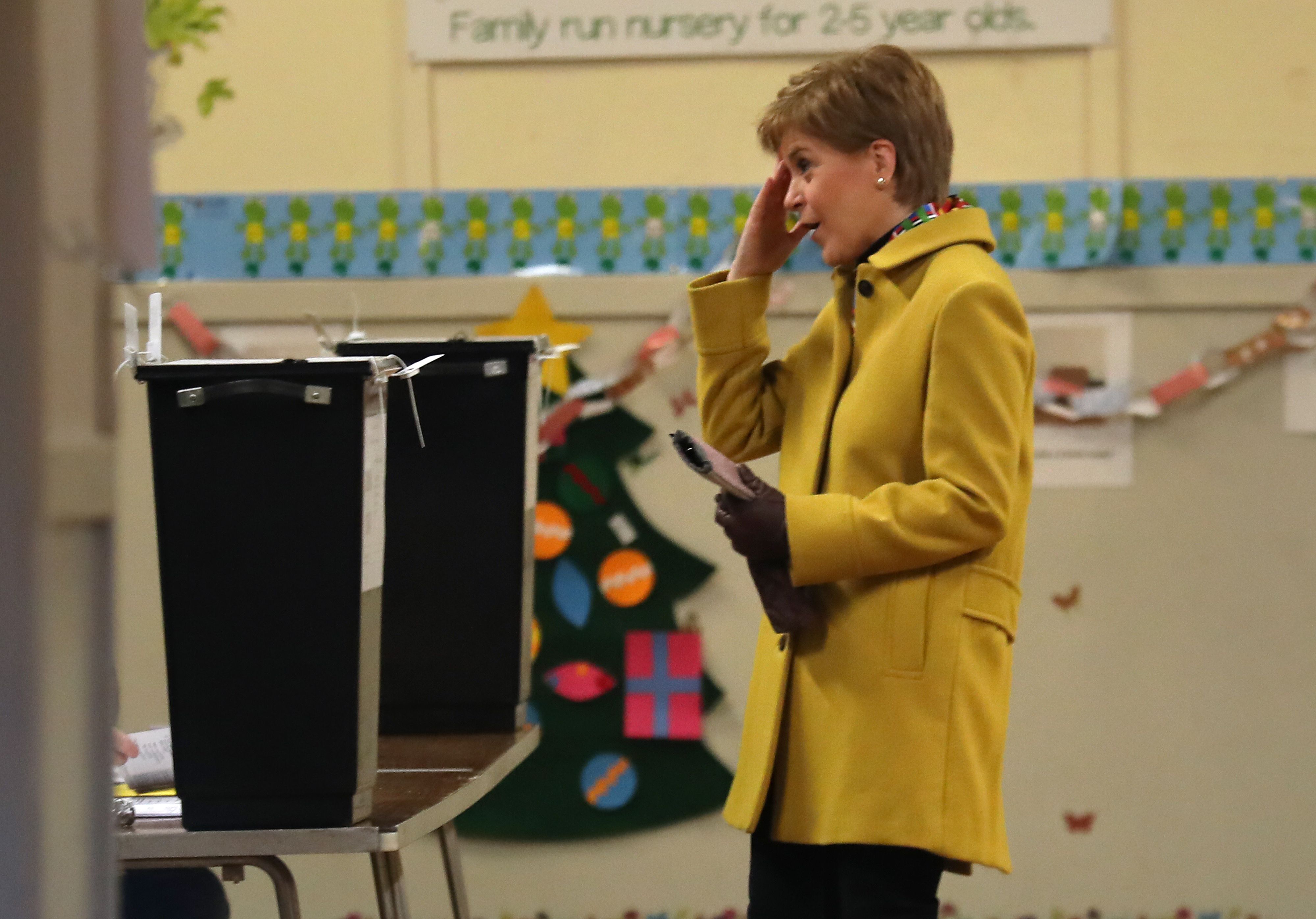 Scottish National Party leader Nicola Sturgeon casts her vote in Glasgow. Photo: Andrew Milligan/PA Images via Getty Images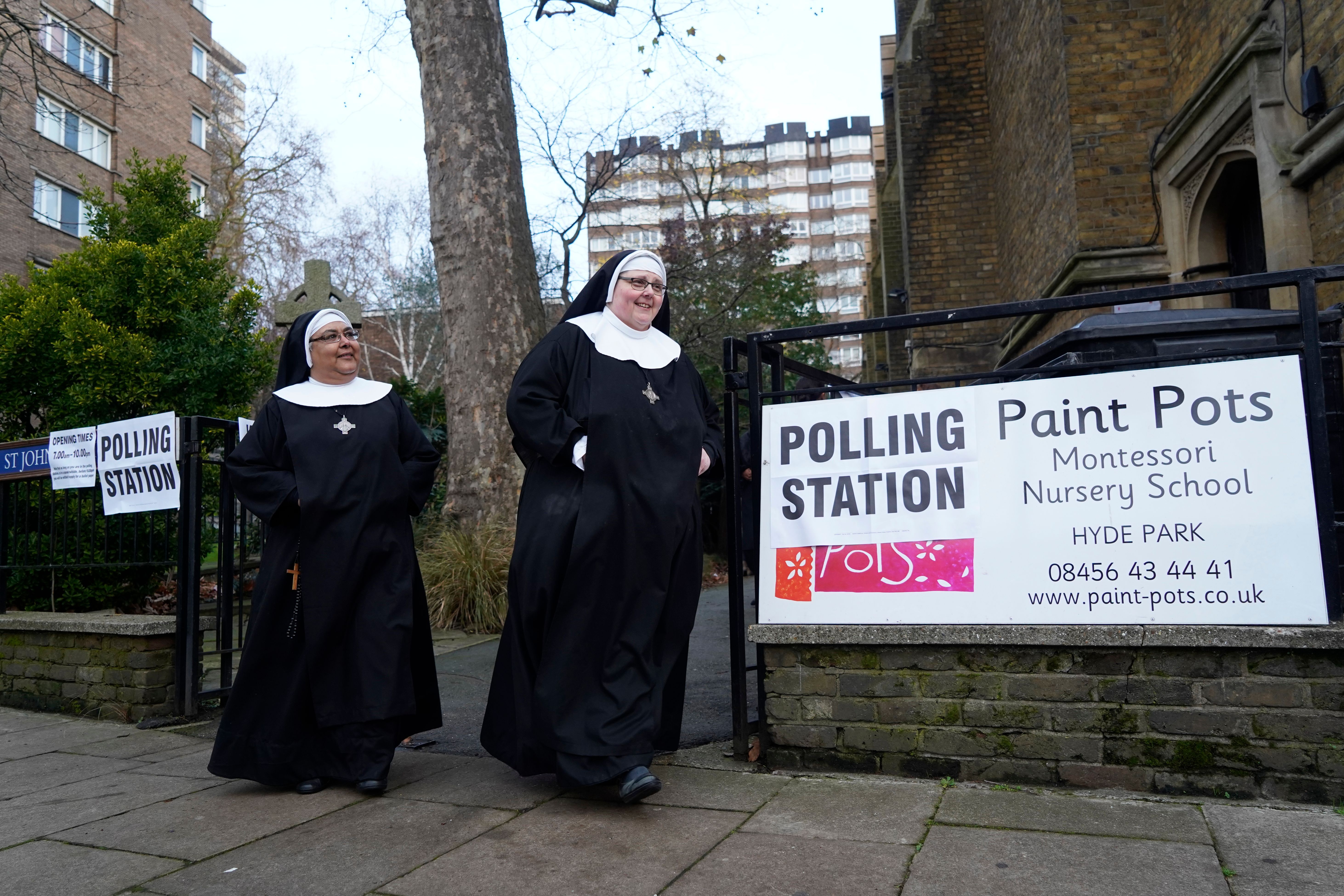 Nuns leave a London polling station. Photo: Niklas Halle'n/AFP via Getty Images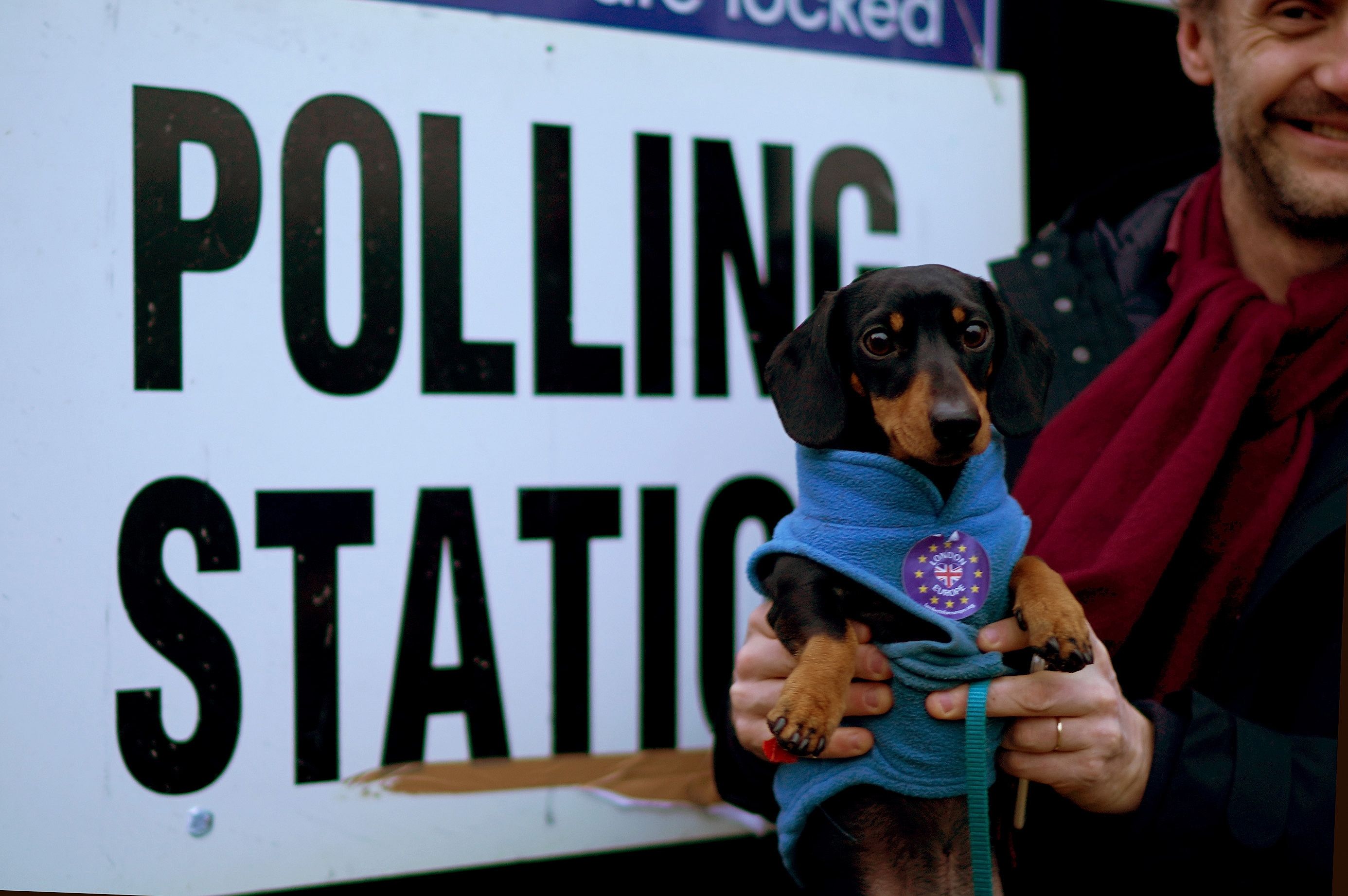 A voter carries his dog with a pro-EU sticker on his coat at the polling station at Pakeman Primary School in Holloway, London. Photo: Peter Summers/Getty Images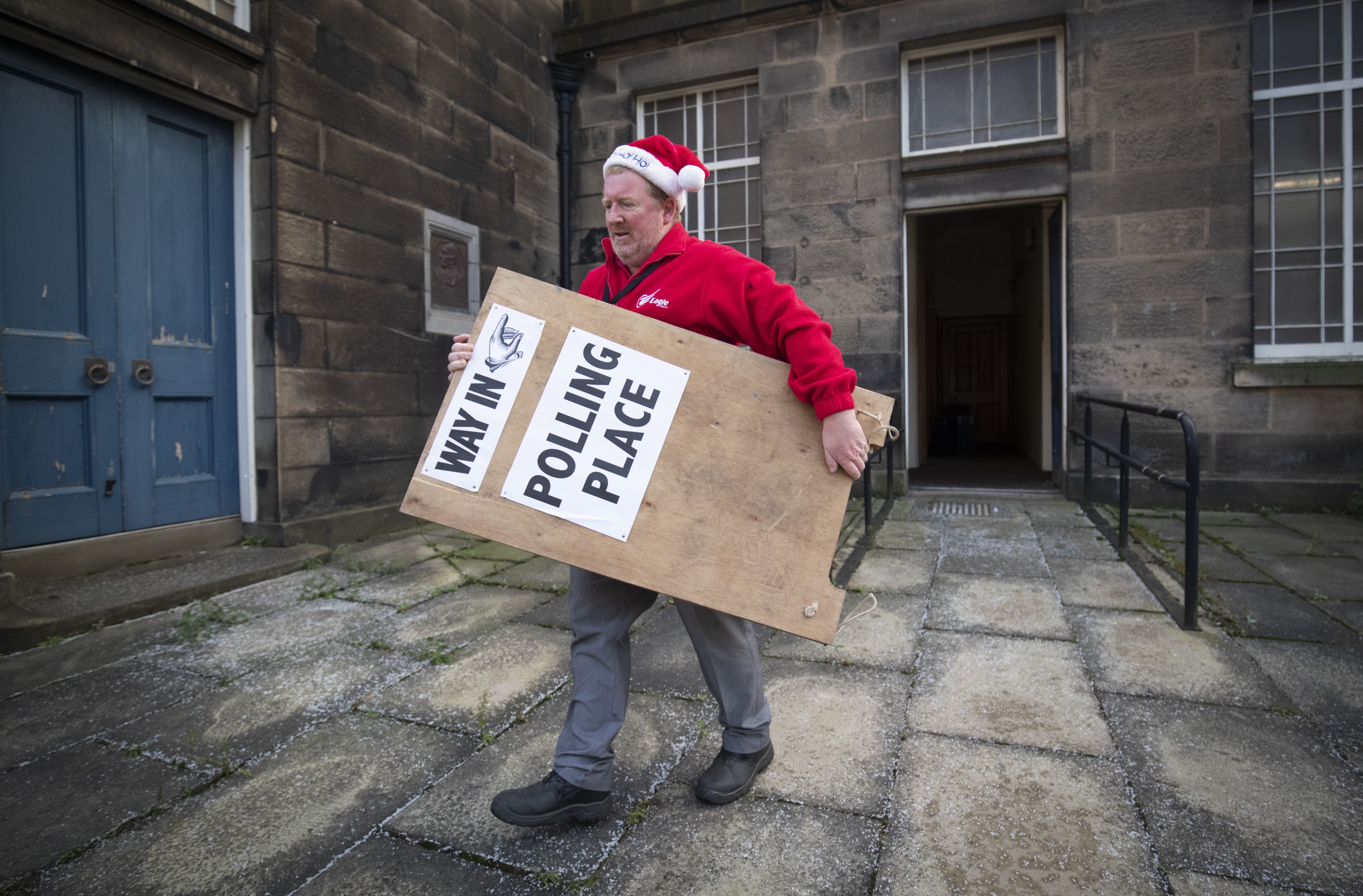 Brian Mansley carries a sign in Edinburgh, one of hundreds that are being dispatched to polling stations around Scotland. Photo by Jane Barlow/PA Images via Getty Images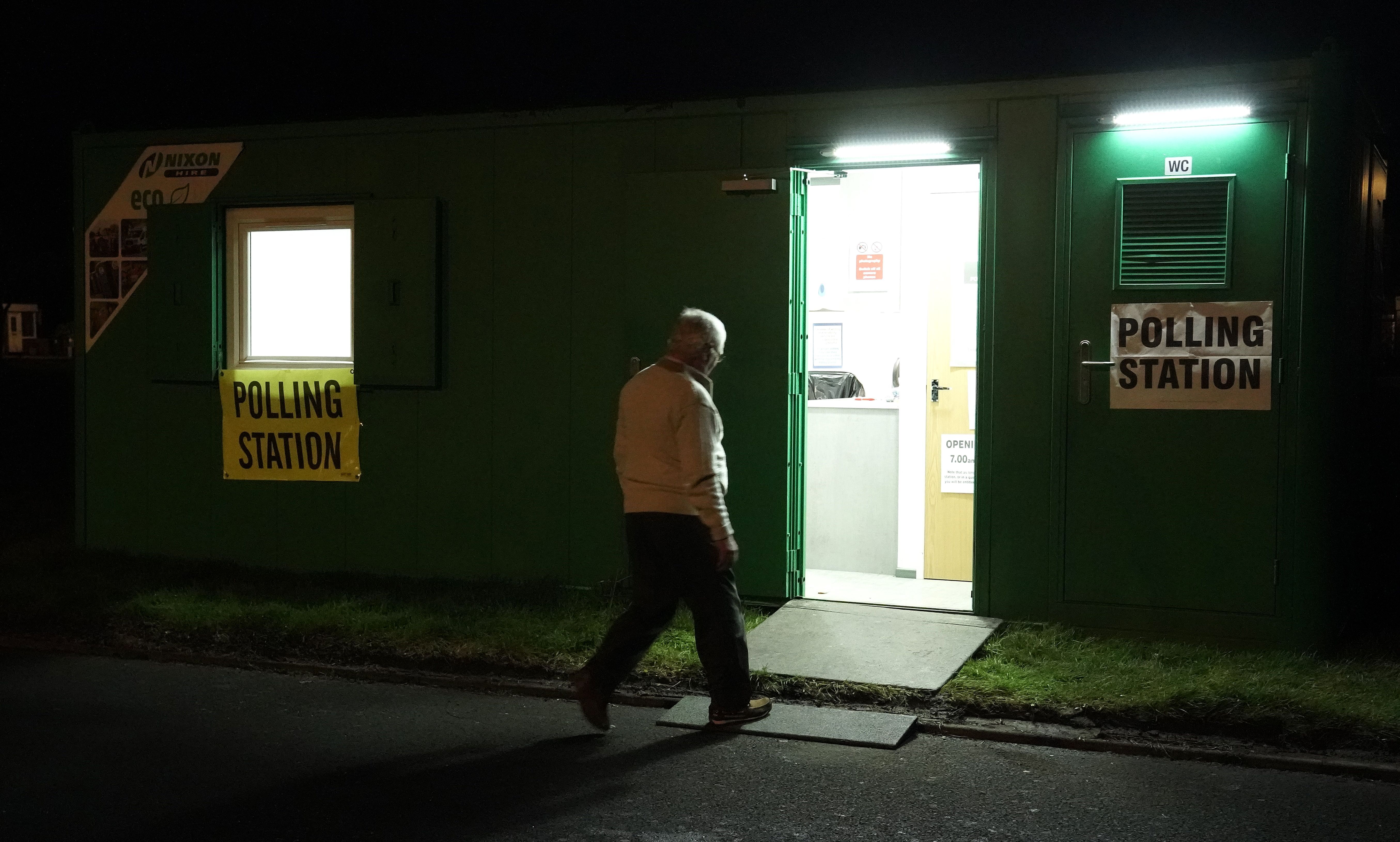 An early voter at a polling station in Whitley Bay, northeast England. Photo: Owen Humphreys/PA Images via Getty Images
Go deeper:
Thu, 12 Dec 2019 09:12:06 +0000
---
Sandy Hook lawsuit against gunmaker set to go to trial in 2021
A Connecticut judge said Wednesday a wrongful death lawsuit brought by families of the 2012 Sandy Hook school shooting victims against gunmaker Remington Arms would go to trial in September 2021, the Hartford Courant first reported.
Why it matters: The case is set to test a 2005 law protecting weapons manufacturers from being held accountable for crimes committed by gun buyers. The Supreme Court said last month it wouldn't intervene in the state-level suit.
Go deeper: Supreme Court allows Sandy Hook lawsuit to move forward
Thu, 12 Dec 2019 05:43:11 +0000
---
Page created: Fri, Dec 13, 2019 - 09:05 AM GMT